Sex Myths From the Movies
Use TV and Movies For Bedroom Inspiration, Not Instruction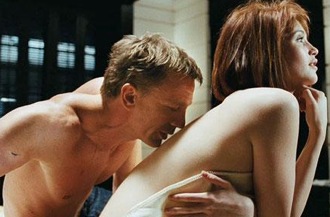 "It's great to watch a steamy sex scene for entertainment and even inspiration," explains sexologist Dr. Ian Kerner, "but it's important to keep it in perspective."  The author of She Comes First: The Thinking Man's Guide to Pleasuring a Woman tells me that couples should set reasonable goals.
"My wife and I laugh when we watch shows where married folks are constantly getting it on," he says. "Real-life couples don't act that way." He suggests instead of attempting sex seven days a week like they might on TV, shoot for two or three times. Great. More time to watch TV!
Other obvious sex realities that Dr. Kerner says movies and TV seem to ignore:
In real life, sex isn't a passionate quickie that lasts for 30 seconds and ends with simultaneous orgasms.
In real life, people wake up with morning breath.
In real life, people like to clean up a bit after sex.
In real life, men don't always cuddle.
In real life, people don't walk through the door and have sex before taking off their Winter coats.
In real life people don't have sex on the first date and necessarily fall in love. Only 1.4 percent of married couples had sex within two days of knowing each other.
Any more to add? Check out what other advice Dr. Kerner has to offer.