Sex Scandals in France
Why Sex Is No Scandal in France — or Is It?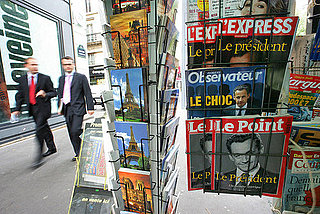 Last week, we told you about a first for France: a prostitute named famous clients in French magazine Paris Match. Until then, sex and scandal never went together. There were rumblings, sure, but France remained unfazed.
When the same magazine reported Nicolas Sarkozy's dissolving marriage in 2007, interest swirled, but a press scandal did not storm. A similar story in the US could end a politician's career by the weekend (can't perform the job with such drama), but the only person to lose his job was the editor of Paris Match.
The French, I've always thought, were too liberated, too urbane, and too, well, French to pander and capitulate to the salacious. Sex is no scandal. But it's not because there's no French appetite for smut — the Paris Match issue that reported the Sarkozys' divorce was one of its best-selling issues ever. So what is it? Find out after the jump.
It's not French indifference; it's France's regulations. Data-protection laws impede free-flowing information about the private lives of its people.
A 2007 Time article declared the era of privacy in France over. France-Soir, a daily newspaper, had a new owner and new plan: fill the mass-market void with colorful images and new sections on crime, sports, and celebrities. In March, French bloggers proved the government can't control everything when they made it impossible for the mainstream media to ignore rumors of affairs by Nicolas Sarkozy and Carla Bruni.
So are attitudes loosening? Opinion writer Claude Soula at the Guardian says they slowly are. The prostitute who kissed and told last week only strengthens the argument, but she only named sport stars, which is a lot safer to gossip about than, say, politicians. It may make more high-ranking officials think twice before soliciting a prostitute, but does that really help France?