Sexy Tips For Your Wedding Night
20 Sexy Secrets For Your Wedding Night
After all the time and effort that is invested in the intricacies of the big day, it can be easy to forget about planning the arguably best part of any nuptials . . . the wedding night. Luckily, Bridal Guide has come up with a list of 20 tips, tricks, and ideas for ensuring those first moments as husband and wife are as sweet — and sexy — as they ought to be.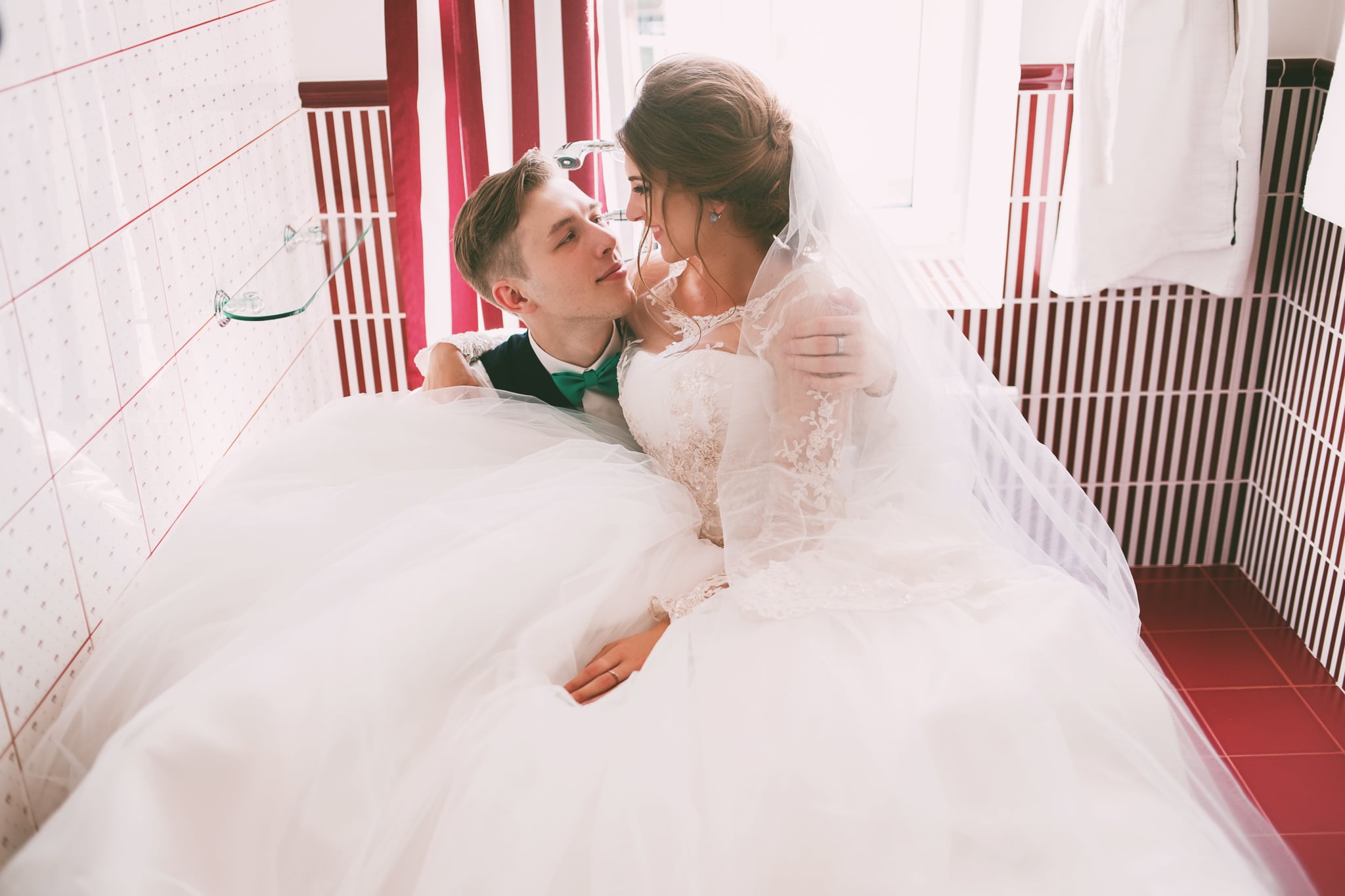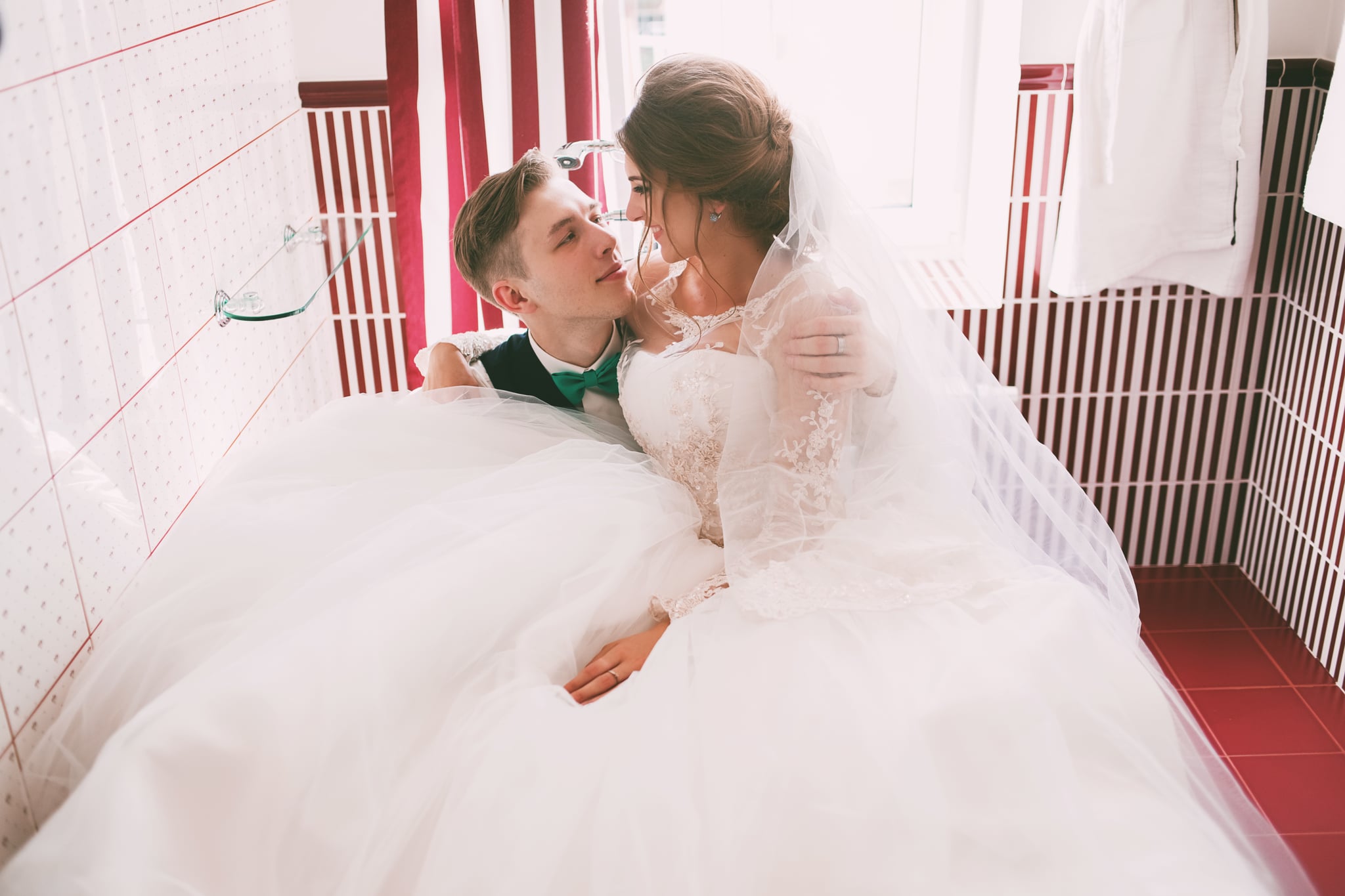 The best part of your wedding just may happen after the guests go home and you slip out of your fancy clothes. After all, it's your wedding night and the two of you want to be alone together. You want to make it special, but you don't want to burden it with too-high expectations.
"Today, there seems to be more pressure to make this night amazing and to do something that's 'wow' — perhaps because many people live together before getting married," says Ava Cadell, Ph.D., a sex and relationship therapist in Los Angeles and the author of 12 Steps to Everlasting Love (Peters Publishing). "But you don't have to make a big production for it to be a wonderful time. There are a lot of little things that couples can do." Here, some simple ways to make your wedding night memorable.
Flirt with each other during the wedding. Sure, you're busy attending to guests, but take the time to meet each other's gaze, touch each other's arm or hand and steal some kisses. These little things keep you focused on each other, and build anticipation as the wedding night approaches.
Fill your room with fragrance. "Scents are carried to your brain's emotional center, where they can stimulate memories, emotions and moods. They soothe, relax, energize or arouse," explains Hilda Hutcherson, M.D., codirector of the New York Center for Women's Sexual Health at Columbia University Medical Center and the author of Pleasure: A Woman's Guide to Getting the Sex You Want, Need and Desire (Putnam). If you're staying in a hotel room, arrange to have a bouquet of flowers put by the bed, as well as scented candles. You can also sprinkle a few drops of essential oil on your sheets. Try ylang-ylang, sandalwood, lavender or jasmine — scents that are said to increase arousal and sexual desire.
Let him carry you across the threshold. You're guaranteed to be swept off your feet! This romantic tradition, which dates from Roman times, when it was said to ensure good luck for the couple, is fun for both partners. Go from there to giving each other foot massages (you've been standing all day), and progress as slowly — or as quickly — as you like to a sensual full-body massage.
Set the night to music. Load the CD player with your spouse's favorite tunes, and put it on when you enter your hotel room. "Or have a CD of your first dance playing softly in the background as you enter the honeymoon suite," suggests Janet Dunnington, owner of CEO Weddings & Events, an event-planning and production company in Manchester, Vermont.
Slip into something sexy. Soft, silky lingerie may not be the newest idea, but it's always fun. Plus, the array of items out there (available at every price point) makes it easy to find something flattering that your guy hasn't seen before. "Don't worry if you don't look like a Victoria's Secret model," says Dr. Hutcherson. "Believe me, he's far more focused on how sexy you are than he is on the size of your thighs."
Make a love list. "Record a DVD of yourself telling your husband all the things you love about him — he can make one for you, too," says Cadell. Start by letting your partner know that you can't wait to spend the rest of your life as a twosome, and then list the physical, mental and emotional things about him that you love. These can be everything from his charmingly crooked smile to his wry sense of humor.
Feed each other. "It's a great way to get intimate before you get intimate," says Dr. Hutcherson. Put a bowl of strawberries, melon balls, chocolate truffles or other succulent snacks by the bed to nibble on.
Use aphrodisiacs. "Many people swear by the effects of certain foods, but there are some that really can boost your libido," says Dr. Hutcherson. Chocolate contains caffeine and a feel-good chemical called phenylethylamine, both of which may put you in the mood for sex. Also try honey, which contains boron, or oysters, which contain zinc. Those minerals may increase the production of testosterone, the hormone responsible for sexual desire.
Play "Find the Honey." For this game, blindfold your partner, put a dab of honey (or another sweet sauce, like chocolate or caramel) somewhere on your body and then have him find it (giving a few hints is a fun part of the game). "It's cute, fun, erotic and playful," says Cadell. Remember to take turns!
Get his-and-hers massages. Arrange to get massages in your hotel room right after the wedding. This will help work out any stressful kinks in your bodies, ease tired-from-dancing feet, and get you both in a very relaxed and cozy state of mind.
Re-create the first time. "Many women tell me that the first time they had sex with their partner was the most exciting," says Dr. Hutcherson. "If your wedding night isn't the first time, think back to it and try to relive some part of it." For example, you can listen to the same CD you played back then, wear the same perfume or write down what it was about that first time that was so exciting, and read it out loud.
Change the lighting. Surprise your partner by replacing an everyday lightbulb with a red or blue one. "This creates a soft, romantic glow," says Dr. Hutcherson. Or, have a bridesmaid, the hotel concierge or your wedding planner fill the room with rows and rows of candles and light them just before you arrive.
Leave something sexy on the bed. Buy your groom some silky boxers or pj's, and lay them out so they're waiting for him. Or guys can buy the bride some fancy lingerie. Either way, this sets a fun, sexy tone.
Indulge in playthings. "Before your wedding night, decide that each of you will buy a sex toy that you want your partner to use on you," says Dr. Hutcherson. "This way you both feel comfortable with the idea, and you can have fun trying them out."
Bliss out in the tub. Prepare beforehand for a romantic bath. Think rose petals, massage oils and candles, as well as sponges or loofahs to wash each other with. Just turn the water on and enjoy.
Relax! Realize the pressure is off. Take the time to talk about your amazing day. Get romantic; make out the way you did when you first met. All of this will make the sex more intimate and thrilling.
Have a treasure hunt. Hide sweet (and sexy) items around the room and give him a list of clues, suggests

Tasha

Bracken, principal design coordinator of Simple Details, an event-planning company. For example, hide chocolates, a bottle of champagne, a CD of your favorite songs, and so on. The final "find" can be you — soaking in the tub or cuddled beneath the covers.
Stroll down memory lane. Decorate the room with playful, romantic pictures of the two of you, says Bracken. (Think funny or poignant!) You can also burn a DVD with a slide show of these special photos set to music, and arrange to have it playing when you get back to the room.
Paint a rosy future. Cadell suggests writing down some private vows. One example: "To love each other. To help each other. To believe in each other." Another is: "We are committed to providing understanding and forgiveness. To creating a partnership that can grow mentally, physically, sexually and spiritually."
Do not disturb. The most important tip for making your wedding night sexy and romantic? "Don't invite friends and family back to your room after the reception," says Bracken. Need we say more?
What We Did
"I know it sounds crazy, but my husband and I abstained from sex for 10 months before our wedding. It was very difficult at first, but it made our wedding night special, because it felt like we were together for the first time. We were nervous, excited. . . and it was a great feeling!" — Lara
"Our wedding coordinator surprised us the night of our wedding by decking out our hotel room with huge bouquets of flowers, candles and a drawn bath. We walked in after the reception was over, and the room was completely magical." — Karen
"We were leaving on an early flight to Hawaii in the morning, so we were staying at a cheap, no-frills hotel by the airport. But my husband tried to make the ambience extra special by arranging to have champagne and flowers for me there. This was a surefire indicator that my new life with him would be filled with lots of pleasant surprises!" — Melissa
"Since I'd heard that couples never actually eat the food at their weddings, I arranged to have appetizers and plates of food from the wedding brought to our room, and a candlelight dinner for two set up. It was so romantic." — Daniel
"I had a friend come into our room earlier in the day, and cover the bed in flower petals in the design of our new initials. I even had the petals match the colors of the wedding flowers." — Jonathan
Check out more great stories from Bridal Guide: