A Shop at Love: Grocery Store Gets Into Matchmaking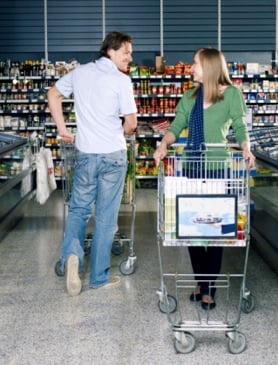 Here in San Francisco, we have a grocery store we call "Singles Safeway" or "DateWay." Located in the singles-populated Marina district, this store has a reputation as one of the city's best pickup spots. A friend of mine swears the cereal aisle is happening, while the feminine products area — not so much. On the weekend it can turn into yuppies gone wild, and if nothing else, you will get checked out by a bunch of guys buying beer for a football game.
A store in Beijing, China got the same idea, but just like any reasonable establishment in a capitalist communist country, they're charging for the service. For a $3 registration fee, you can shop at the love store, which asks customers for their names, ages, income, occupations, and pictures. The store says it's matched 50 couples since it opened for business last November.
Looking for love at a grocery store comes with perks: if you're a vegetarian, you can rule out someone stocking up on steaks. If you're a foodie, you can go straight for the men who appear to buy only seasonal produce. Plus, it's easy to strike up a conversation — if you're in the wine area, you can ask the prospect next to you if he has a recommendation. Have you ever met someone at the grocery store?