Shrink Parties For Women
Shrink Parties Will Drink to Your Problems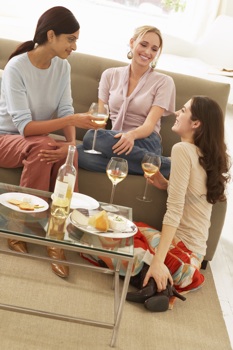 Your mother may have had Avon parties, and you may hope/fear that was a cuddle party at the park last Sunday, but now it's time for the shrink party.
A group of women in Manchester, England, are asking local ladies to bring their problems, and they'll bring snacks, bottles of wine, and a psychologist. The party really starts when women begin airing life's latest grievance, which could be anywhere from trivial to traumatic. One thing's for sure, though, it's fascinating to listen to.
The voyeuristic bonus is what makes shrink parties so controversial. True, they sound a lot like like group therapy, where a psychologist mediates a room of regular clients, but those people rarely know each other at the beginning. In fact, it's frowned upon. Shrink parties sound like petri dishes for gossip and judgment — "I'm doing better than her!" — which benefits the listener more than the talker.
Of course, there can be stigma attached to seeing a therapist, and some people would rather talk to a friend, but it would take a truly extraordinary group of women, who respect and support each other, to make shrink parties work. So much effort — why not just see a real shrink?