Single Girl Problems on Twitter
Tweets Girls Say: Single Girl Problems and Why Guys Like Thongs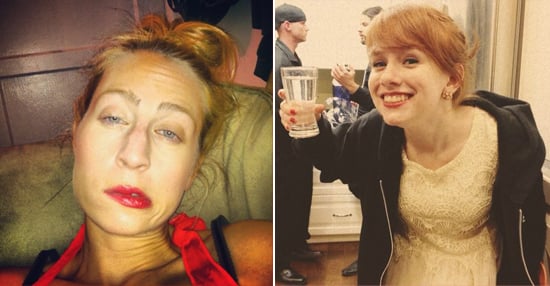 Don't let the end of Summer get you down; get a post-Labor Day boost with the funniest tweets of the week! Our favorite ladies on Twitter were as witty and snarky as ever with their musings and one-liners on their love lives (and lack thereof). Over "nice guys"? Tired of kids judging your relationship status? Whether you're in the throes of single girl problems or finding your long-term relationship less than romantic, there's a relatable tweet for you. I even threw in Lance Bass and Cher for good measure. Enjoy, and don't forget to follow POPSUGARLove on Twitter!
You know it's bad when . . .
Went into a store w/ wet nails & asked the cashier 2 pull a cig outta my purse & he said "get a boyfriend so you don't have to be like this"

— Molly McAleer (@molls) August 31, 2013
Life slogan?
Decided to delete all the fluff on my dating profile and just write "Hey, you could do a lot worse."

— Lori (@HeyitsLori) September 1, 2013
Also, they're liars.
Girls who say "thongs are more comfortable than regular underwear" know that men hear "I like things in my butt."

— kelly oxford (@kellyoxford) September 5, 2013
Click on for more funnies.
Lyrics to ponder.
Yes Cher I do believe in life after love otherwise I'd have to kill myself

— AmberTozer (@AmberTozer) September 2, 2013
JT was worse.
Feel like there are tons of girls in a pit of ice cream & despair going "Lance Bass got engaged before me!?"

— Lena Dunham (@lenadunham) September 2, 2013
When relationships get romantic.
My husband just walked in on me in the bath and made a wheed-whacker noise so I guess we're gonna do it now.

— Li'l Edie Surly (@JennyPentland) September 5, 2013
It's a two-way street, NSA.
Hello, NSA? I deleted a guy's number but now I want to call him I know you have all our sexts can you just give it to me.

— Bez (@Bez) September 5, 2013
Moms always know how to say just the right thing.
Me: He hasn't written me back yet. My mom: Oh, don't worry. That's probably because he's on a hot date with a much smarter, prettier girl.

— Mandi Harris (@MandiHarris) August 31, 2013
You win.
Hey, all of my high school friends are getting engaged, but I'm in a monogamous relationship with Zesty Ranch Kettle Chips, so who wins?

— Meghan O'Keefe (@megsokay) September 4, 2013
Damn kids and their BS radar.
Kid "are you sexy?" Me "nah" "is your bf sexy?" "Nah" "that's cause you don't have one!" #bye

— Melissa Stephens (@melmstephens) September 4, 2013
Better nice than ugly.
Whenever I'm not attracted to a guy I tell him he's "too nice," because I know how much guys like to believe that's why they're single.

— Tricia (@Im_Tricia) August 29, 2013
I prefer a Snuggie.
why are girls like "oh it's december i need a boyfriend to keep me warm" no you can buy a coat like the rest of the single people

— Typical White Girl (@TypicalGirI) September 3, 2013
It does have a depressing ring to it.
MORE LIKE SINGLE AND READY TO NEVER MINGLE AGAIN, AMIRITE?

— Stephanie Mickus (@smickable) September 1, 2013
Never settle.
my goal is to marry someone with the perfect dog

— Paige Baker (@vpbaker) September 3, 2013
I'd subscribe to that service.
Hey can someone create a service where after I've watch scary movie by myself, a cute, nice guy shows up & goes when I finally fall asleep?

— Maritza Lugo (@PolaRoid_Rage) September 5, 2013