Six Mexican Women Serving Homicide Sentences For Abortions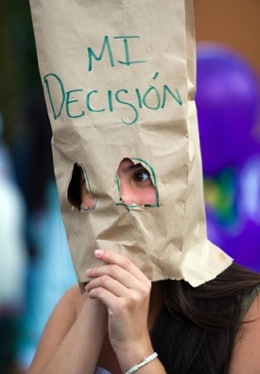 Some people who oppose abortion consider it the taking of an innocent life, and they sometimes use words like "baby killer" and "murder." In one Mexican state, the sentiment behind this language has literal consequences: six women are in prison after courts convicted them of homicide for having abortions. Activists say the women, who are all poor with little education, have been in prison for three to eight years, serving 25- to 30-year sentences.
Abortion laws vary across Mexico, but the state where the women were convicted takes a hardline stance. The conservative state Guanajuato won't enforce a federal law against gender violence, and although it has a high rate of teen pregnancy, sex ed is not taught in its schools. The mayor even attempted to outlaw passionate kissing in public.
If you think something like this could never happen here, consider the fact that a majority of Americans now consider themselves "pro-life." Of course, different views regarding the legality of abortion can live within the pro-life designation. For example, someone who considers herself pro-life may want it legal in case of rape or incest, or to punish the doctors, not the women, while another pro-life person may want women who have abortions to go to prison. Could you imagine something like this happening in the US?