Snooki Interview With Meghan McCain
Snooki Talks Politics and Fame With Meghan McCain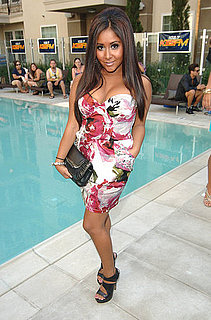 I thought Snooki's jab at Obama's tanning tax was a scripted attempt to plug her other employer, spray-on tanner SunLook, on Jersey Shore. But she comes across a lot more improvised and genuinely pro McCain in this Daily Beast interview with Meghan McCain.


On fame: "The best part is just the opportunities that we're given. Like, we go to LA, we meet so many celebrities. Celebrities know who we are. Celebrities are fans of us. They actually get more star-struck to meet us than we are of them. So that's insane. And just like the traveling the world, I never would have thought I would ever travel the world like I am now."
On speaking at James Madison University: "It was the most amazing time I've ever had. I can interact with my fans, they ask me questions, I answer their questions and we pretty much just have that bond. And I'd rather, to be honest with you, be doing that, talking to colleges, than going to these clubs for two hours."
On politics: "I'm not really a Republican or a Democrat. I actually signed up as an independent, just because I don't want to pick any side and also I don't really know a lot about politics. I only know politics about, like, you know, tanning and being a Guidette."
Ah, yes, the politics of being a capital-G Guidette. Heavy stuff!