Study Examining Sexual Behavior in College
Is Undergrad Experimentation a Myth?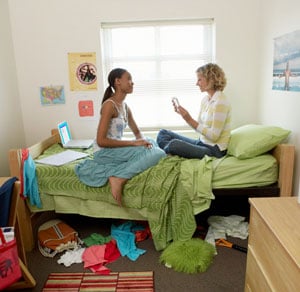 Listen closely: that's the sound of male fantasies all over the country being shattered. Although the image of young, experimental coeds hooking up in dorm rooms is so popular it has its own name — LUG, or lesbian until graduation — a new study by the CDC all but debunks that stereotype.
The study, which looked at the sexual behavior and activities of over 13,000 15- to 44-year-olds, finds that college-educated women are actually the least likely to have had a same-sex experience; women without a high school diploma are the most likely.
But before we jump to the conclusion that same-sex coed encounters are a figment of overactive frat-boy imaginations, consider one more factor: the same study in 2002 showed that education had no impact on a woman's sexual experimentation. The difference in this year's study, in fact, is that more non-college-educated women are admitting to same-sex experiences, not that fewer undergrads are.
It's hard to pinpoint exactly what's going on here: Was the concept of LUGs overblown in the first place? Are non-college-educated women just becoming more comfortable with admitting to experimentation, as society becomes more accepting of it? Share your thoughts — and anecdotal evidence, if you have it — below.