SugarSugar.com
Exchange Favors With a Financially Generous Man, Call It What You Like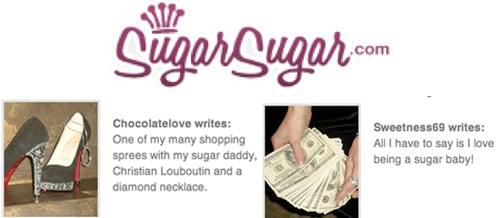 We first saw the sex-for-favors exchange with Sugardaddies.com, which vaguely matched "attractive, wealthy, and desirable people," but SugarSugar.com just goes for it, asking for men to be wealthy and women to be young.
Besides normal dating site specs like height, body type, and education, SugarSugar asks "sugar babies" what they're looking for help with: rent or housing, tuition, gifts, car expenses, allowance, or something more specific. In return, "sugar daddies" list their net worth and get ranked with dollar signs (like a man worth $5 million would probably be $$$).
With a tag line that says "Merging generous sugar daddies with beautiful sugar babies," it sounds like a man can show up for a date unshaven, unshowered, and undesirable, provided there's a pair of Louboutins in his hands, but it's not that easy. On SugarSugar's blog, one writer urges sugar daddies not to let themselves go.
"While we [sugar babies] might look exceptional due to daily gym trips, skipping meals, purging, and what-not; you not making an effort in that department will put a quick stop to us wanting to get intimate with you. We'll probably have to close our eyes and think of a happy place in order to get down between the sheets, or be seen out in public with you too."
Because nothing looks more exceptional than a woman who purges!