Super Bowl Entertaining Ideas
5 Ways to Make the Super Bowl More Entertaining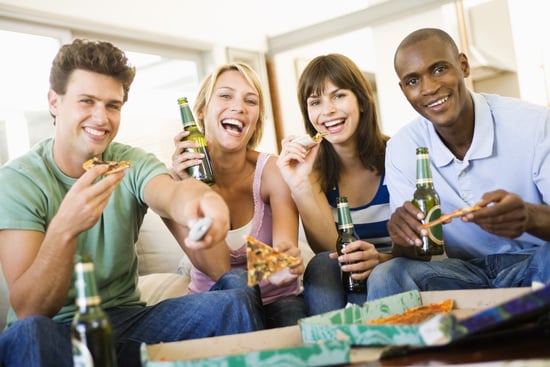 Just because you're not a football fan doesn't mean you can't enjoy the Super Bowl. Whether you're single or attached, you can keep things interesting with a bet, a game, or — why not? — a costume contest. Check out these five ways to stay entertained on Super Bowl Sunday:
Start up a square football pool. Do a bit of research beforehand to learn the rules of a square pool system, then encourage your friends to play along. Square pools are all about the score, so you don't need to be a major sports buff to understand how it works. Going to a couple's party? Ask couples to team up and turn it into a battle of the couples.
Create a celebrity lookalike contest. Ever noticed that Aaron Rodgers — last year's winning Super Bowl quarterback — looks like Jake Gyllenhaal? While you're watching the game, tell friends to call out celebrity lookalikes, then vote on the best one as a group. It's fun, amusing, and — let's be honest — the perfect excuse to check out all the players.
Host a Madonna costume contest. The Queen of Pop is set to play during this year's halftime show, so encourage your girlfriends — plus any willing guys — to sport their favorite Madonna look on Super Bowl Sunday. After the game, kick the party up a notch with some classic Madge-themed karaoke.
Keep reading for more ways to spice up the Super Bowl.
Design a commercial bracket. During each commercial break, ask the group to vote on their favorite ad and write it down on a piece of paper. At the end of the first half, vote on all the commercials that have aired so far to pick the finalist. When the game is over, pit the top commercials from each half against each other to choose a champion.
Invite single friends and play matchmaker. Super Bowl viewing parties are a great time to bring different groups together, so ask over some friends that you think might hit it off. Don't tell them about your matchmaking plans, though, so that there's not any obvious pressure. Just sit back and see if sparks fly.