Surprise Valentine's Day Presents
When Was the Last Time You Received a Surprise Valentine?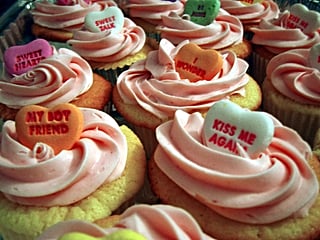 I found a pink bakery box sitting on the steps inside my building Wednesday night and stepped over it. Two hours later my roommate came home, box in hand, asking if I knew what it was about. "Nope," I said, "I assume someone left it there." We put it back.
Last night it was still there, untouched. "That's a good bakery," she said. "Yeah," I agreed, "let's eat it."
Inside were delicious-looking brown-butter cupcakes and chocolate cupcakes sprinkled with sea salt along with a note. "To the tall, handsome waiter" — I forget the middle — "Will you be my Valentine?" The tall, handsome waiter was an old roommate.
So maybe I'm just a Valentine's Day cynic, but until Wednesday I thought cupcakes at the door was the stuff of saccharine rom-coms. Has an unexpected Valentine ever showed up at your doorstep?
P.S. We did not eat the cupcakes but emailed the tall, handsome waiter. Though if they remained unclaimed tonight, I can't promise the same. They'll go bad!
Source: Flickr User freakgirl