Susan Sarandon Interviews Carey Mulligan For Interview Magazine
Carey Mulligan on Walking in LA: People Think You're a Hooker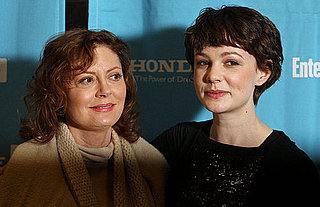 Carey Mulligan, the charming British actress from An Education sat down with Susan Sarandon for an actor-on-actor interview. The two costar in The Greatest, which premiered at 2009's Sundance but was only released in the US this month.
These celebrity-on-celebrity interviews can be amusing, as a celebrity who's been the interviewee hundreds of times suddenly becomes the interviewer. But I have no complaints about Sarandon's job in Interview magazine. She got an amazing anecdote out of Carey about the paparazzi!
Here are some of the highlights:
On walking in LA: "People do sort of look at you like you're a hooker because it's so rare to see someone just walking.
On New Yorkers: "People turned out to be nicer than I thought they'd be. In London, people can be so . . . well, it's not even a case of people being unkind or unfriendly. You just don't make any contact in London. You go from A to B with your eyes on the pavement. I think New York is more social, and I didn't expect that."
On keeping a low profile with boyfriend Shia LaBeouf: "I don't really talk about it, but I think it's probably easier in New York. In LA, it's a little bit harder — especially if you don't drive, because you're just more exposed."

For the paparazzi anecdote,

.
On the unexpected kindness of paparazzi: "The day I passed my driving test, I had to go to a meeting in Toluca Lake, so I was driving over there, and I was followed! This was the first time I was in my car on my own, and these three paparazzi guys were following me in their cars. I was like, 'Are you kidding me? This is great. The day I get my license, I'll have this horrific accident.' But the most ridiculous part was that I was trying to do some evasive driving to lose them — I mean, I can barely park, and I was trying to change lanes and things. . . . Eventually I pulled over, and the three cars stopped behind me. I was sitting there, trying not to cry, trying to call a friend for help, when this guy — like, the leader of the pack — came up to my car and gestured for me to roll down my window. So I rolled it down, and he said, 'We know where you're going. We can't take pictures of you there. But do you want us to show you how to get there?'. . . The next day, I went shopping with my friends, and I forgot I had a car at the meter, and the same guy paid the parking meter for me!"