Swinging in the 1960s
Swinging in the '60s: Don Draper Doesn't Want to Share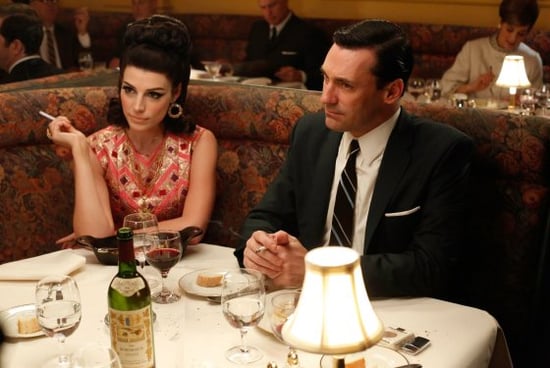 This week's episode of Mad Men almost turned into an episode of Wife Swap. While out to dinner with Megan's soap opera costar and her head-writer husband, who have been married for 18 years, the Drapers are propositioned to trade spouses. As they're wrapping up dinner, the husband, who seems to be making eyes at Don, says, "Why don't you let me get the check. We go back to our pad, smoke some grass, and see what happens."
Don's not so into it. If he's going to sleep with a friend's wife — which he does — he wants to do it in secret. And as we see later during Megan's soap opera love scene, Don doesn't like the idea of his wife kissing another man, even for professional reasons. While it's not Don's bag, by 1968, partner sharing had swung into popular consciousness. Already in the 1950s, "wife swapping," as it was called, had caught the media's attention. Legend has it that "key parties" began on military bases and moved into suburbia after the Korean War. Without all the subtle wining and dining Don and Megan experience, there was no mistaking the point of such events. At key parties, husbands would toss their house keys into a bowl. Then the wives would draw a set from the bowl at random and hook up with the owner.
By 1969, swinging came to Hollywood with the critically acclaimed film Bob & Carol & Ted & Alice. In the clip below, you can see the two bourgeois couples attempting to get in on the free love of the late '60s. With the intention of trying out the swinger lifestyle, they smoke some grass and see what happens. Bob & Carol & Ted & Alice received four Oscar nominations, and the film went on to become a sitcom in the '70s.