Tavi Gevinson and the Child Blogger Gimmick
Why Teenage Bloggers Are Gimmicks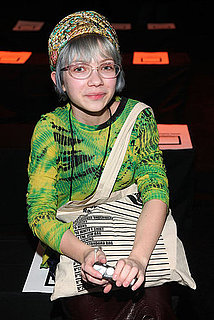 From a 13-year-old boy writing restaurant reviews for GQ and Time Out New York Kids to the 13-year-old blogger who commands front-row seats at fashion weeks, child bloggers are here but will they stay?
They are writing not because they pen incisive reviews, but because people's jaws drop to the sound of an aww when they stop to talk. Tavi Gevinson is the 13-year-old fashion blogger behind Style Rookie. She's done videos for Teen Vogue, she's written reviews for Harper's Bazaar, and she's been profiled in New York Times Magazine, but when I watched a video Fab posted in December of her Rodarte's Target debut coverage, I felt more sorry for her than anything. Sure it's sweet, but it's also uncomfortable to see people look like they've just spotted a puppy when they talk to her. The 13-year-old fashion blogger. It's catchy and cute and a complete gimmick.
To illustrate just how out of far the lilliputian blogger epidemic has gone, Racked found a 5-year-old with an opinion and a willing mom to blog about New York Fashion Week. It may just be one of the greatest things I've seen on the Internet. Who doesn't want to read what a 5-year-old says about Fashion Week? Which is exactly what magazines are banking on with teens.