Taylor Momsen Shuns Her "Dark Image"
Teen Dream: What Were You Like at 16?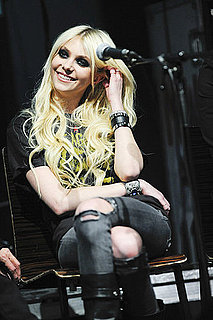 After cursing last week on a UK morning show, Taylor Momsen's badass image only intensified. The fact that her Gossip Girl character turns reckless at every juncture doesn't help, but her real-life persona seems to cultivate the look, too.
When asked about her "dark image" in a recent interview, she said darkness is relative.
"It just depends on what you consider dark, you know? I think some people think I'm a Satan worshiper or something."
Well, I wouldn't go that far, but I do think Taylor is trying an image on for size. How very 16-year-old girl of her! Though she's a high-school graduate with a budding music career and a successful acting one, she's still just 16. Maybe she'll stick with her current shtick, but I wouldn't be surprised if her persona is a shiny new thing by her 18th birthday.
Who were you like at 16? Popular? Dark? Or just losing your virginity!