Taylor Swift and Cameron Diaz at 2011 Teen Choice Awards
Who Has Better Advice For Teens — Cameron Diaz or Taylor Swift?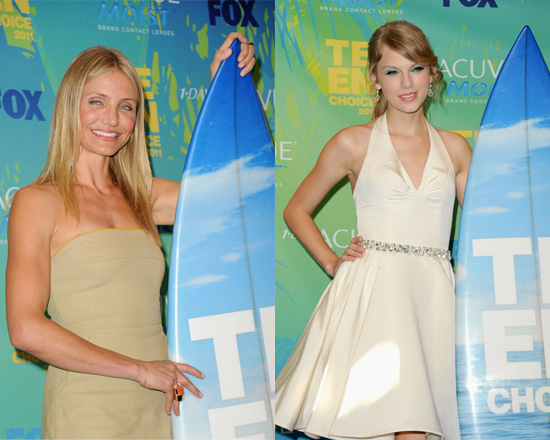 Last night at the Teen Choice Awards, beautiful blondes Cameron Diaz and Taylor Swift both accepted surfboard trophies. Backstage, the successful celebs offered words of wisdom to their presumed audience: teenagers. Thirty-eight-year-old Cameron Diaz said teens should realize that your real life starts after high school. Cameron explained that "where you're at as a teenager, that's not the real world. Outside of high school is where you start living life. The things that happen in high school, it's not the end of the world. We live in a bubble in high school, but anything that happens feels like the end of the world or the best thing that's ever going to happen to you."
At 21, Taylor Swift is closer to her teen years, and the advice she gave in the pressroom differed from Cameron's. Taylor Swift thinks young people should take their teen years more seriously, saying: "Live your life like you're 80 looking back on your teenage years. You know if your dad calls you at eight in the morning and asks if you want to go to breakfast? As a teenager you're like no, I want to sleep. As an 80-year-old looking back, you have that breakfast with your dad."
Do you think Cameron or Taylor is more spot on?