Ted Haggard GQ Profile
Ted Haggard Chooses to Be the "Masturbation Guy" Over the Gay Guy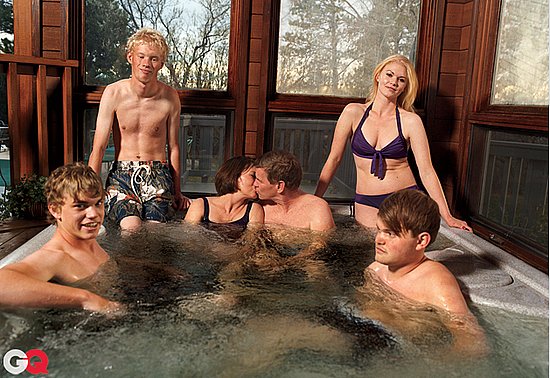 It's like the ultimate, awkward family photo, except this one has an agenda. It's to show just how not gay Ted Haggard, the defrocked evangelical minister of the New Life Church whose double life was exposed in 2006, is.
Despite paying a masseuse for a massage, crystal meth (to enhance masturbation), and sex (but not sex, sex), reformed Ted told GQ he didn't do this because he was gay, he did it because he liked to masturbate. "And that's one of the reasons why I haven't been real clear," he said. "I don't want to stand up publicly and say, 'Hey, I'm a masturbation guy!'"
But now he is standing up and saying it — I suppose he finds it better than standing up and saying, "Hey, I'm the gay guy." So here we are with this creepy picture of him locking lips with his wife in a hot tub and their four kids, who don't know where to fix their gaze. That's not straight; it's just awkward.