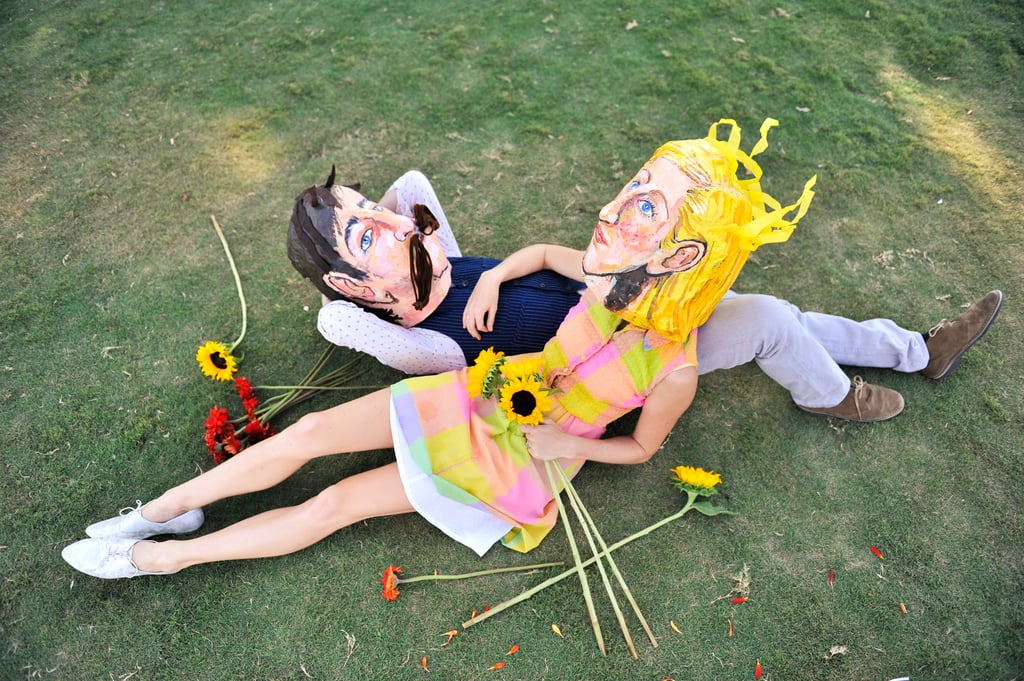 0
Molly and Patrick's Wacky Bobblehead Engagement
Molly and Patrick's Austin, TX, engagement shoot shows just how creative love can be. Molly's artistic skills came into play with the design of the bobblehead masks the couple wore, and the combination of colors, costumes, and set gave this shoot a wacky and wonderfully fun feeling. See what photographer Suzanne Pressman had to say about the day:
"I'm having a hard time coming up with words to describe how much I love this photo shoot. Taking photos that are conceptual and candid at the same time might just be my favorite thing in the world. I consider this a creative collaboration since most of these photos were created from Molly's concept drawings.

Molly and Pat really wanted photos that described them as people and represented their interests as well as their adoration for one another. Molly Brau is an extremely talented painter and artist. Seriously check out her work here. The masks she created for the bobblehead photos blew my mind. Pat is the drummer for The Wheeler Brothers . . . a band blending Americana, folk, rock, and bluesy melodies.

Sometimes I just get couples that AMAZE me in their perfection for one another. Molly and Pat are rockstars but also the most down to earth people you could ever hope to meet. I love it when couples or any kind of client knows what they want from their photos. Making someone's vision a reality is one of the most rewarding things I can do. Can't you just feel the love and creativity? I can't wait for this wedding next month in Tarpley, TX during Utopiafest!"
See the photos below!
Photos by Pressman Studio