Will Texas Sonogram Bill Be Effective?
Showing Women Sonograms Before Abortions Rarely Changes Minds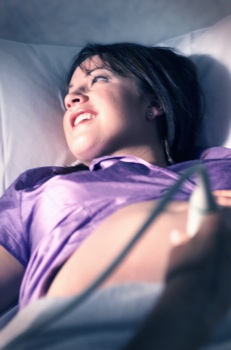 Last week a Texas Senate committee passed a bill to require doctors to perform sonograms and describe the fetus to women. The bill could be on the state senate floor next week, and a decision could soon follow.
The idea, of course, is that women will be so moved by the little mass growing inside them that they'll stop the procedure and have the baby. Eighteen other states already have similar laws — and crisis pregnancy centers notoriously show women sonograms — but research shows women do not change their minds afterward.
To be fair, this research has been done by pro-choice organizations, but bias can only go so far. The European Journal of Contraception and Reproductive Health Care found that 72 percent of women opted to see sonograms, 86 percent called it a positive experience, and none canceled the procedure. But the difference between this study and what Texas is proposing is that women have a choice. The bill states women can "avert their eyes," but it is not clear if they'll be able to opt out of hearing the description of the fetus.
What will Texas get out of showing a woman a sonogram she doesn't want to see? At best, an extra-unpleasant abortion experience? At worst, a mother who doesn't want, or can't handle, a child. And maybe a dangerous message for other women that DIY abortions aren't such a bad idea.