The holidays are the best time to spend some extra time with the ones you love most. YourTango has compiled seven date ideas for couples to make the most of the season.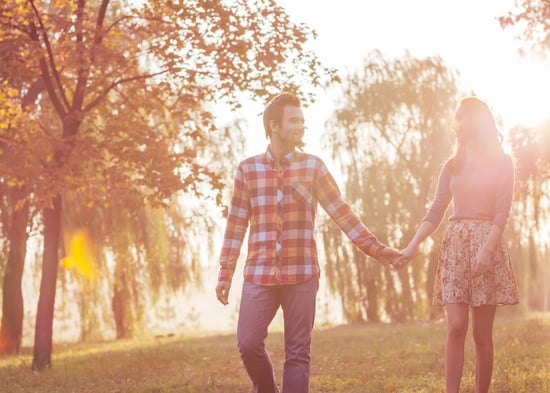 We get it: at this point in the season you're probably corn-mazed and apple-picked out. In September, you're counting down the days until you can unpack your sweater collection and go grab an outdoor bite to eat, even if you're sweating through it. You've already Instagramed enough pumpkin patch pics for the year, and once Thanksgiving hits, you might find yourself coming up empty on the seasonal-idea front, but that's where we step in.
Before you start counting down the days until your annual Christmakuh bash, we've got a few date ideas that should take you straight through Thanksgiving weekend!
1. Boycott Black Friday
Let's face it: Black Friday is horrifying. Instead of spending the day trying not to loose a limb (or a coupon), spend it in bed with your partner, surfacing only if leftovers are involved.
2. Embrace Your Peanut Butter Craving
You've probably had your fair share of apple and pumpkin flavored treats over the last two months, so why not switch up your dessert menu in lieu of November being National Peanut Butter Lovers Month? Gather some recipes that the two of you can bake together, and then indulge in your decadent dessert by the fire … or in the bedroom.
3. Warm Up And Unwind
Hanging out with your extended family can be a blast … but it can also be super stressful, especially if you're busy playing host! Book a couples massage for the Saturday or Sunday of Thanksgiving weekend. The warmth and scent of the massage oils will allow both of you to unwind and focus on the reasons you are thankful to for each other, sans the family pressure.
4. Movie Marathon Your Way Through Leftovers
Line up a movie marathon list that you and your partner can spend the weekend crossing off, based on celebrities who celebrate November birthdays. For starters, you've got David Schwimmer (and those Friends Thanksgiving episodes are unrivaled, if you ask me), Emma Stone, Ryan Gosling (!), Anne Hathaway, and Ben Stiller. You can each pick a couple of flicks, cozy up and chill out until Monday.
For more date ideas, head to YourTango: Thanksgiving Activities: 7 Super Fun Holiday Date Ideas
—Tiffany McHugh
Check out more great stories from YourTango: