Tips For Buying Lingerie
Everything a Man Needs to Know About Buying Lingerie
We're happy to present this excerpt from one of our favorite sites, HowAboutWe. From style to material, there are a lot of factors to consider when buying your significant other lingerie. Check out tips to keep in mind next time you head out to the store!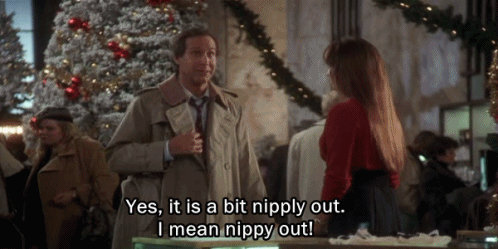 Of the gift-giving inept of the world, it is my humble opinion that men make up a fairly large percentage. Like, 107 percent. I've seen too many relationships end with such Christmas fails as dust-busters and horrendous, ill-fitting dresses. This year I'm here to let all of you men in on a gift-giving secret. There is one gift that is always a win if done correctly: lingerie.
Now, I know it has icky connotations, but it is a treat women rarely splurge on for themselves and a huge confidence booster if given by a significant other. But, I repeat, it must be done correctly. I'm about to school you on the art of purchasing lingerie as a gift.
It's Not "For Both of You"
The selfish jerk who really only wants a present for himself says, "Oh, baby, it's for the both of us." No, you can't say that. You can't even think that. Do your best to capture the personality of the recipient rather than your own fantasies. If those two intersect, then it will be a merry Christmas for all and for all a good night.
Feeling left out? A front-tie babydoll nightie will give you something to unwrap too.
Get the Good Stuff
If any part of your gift is polyester or some other flammable, synthetic material, you might as well start making up the pull-out couch right now. Victoria has a secret, and it's that lingerie should never be cheap. Your lady deserves something that feels luxurious and comfortable. Items made of silk or cotton are a solid choice. "A lot of buyers complain our holiday sets are too expensive, but if you want to pamper her, you should go all out," my local lingerie salesperson advises. It doesn't necessarily have to do with the price of the gift, but if your budget only allows for one high-quality piece or a whole outfit that isn't as well made, go with just one piece.
Maybe choose a tiny silk pajama camisole and bottoms, because every girl can appreciate being comfortable and sexy simultaneously.
Don't Let the Saleswoman Pressure You
A recent article in Business Insider suggests salespeople at stores like Victoria's Secret may be capitalizing on the fact that you are a man. Apparently they know guys want to get out of there as fast as possible and foist the expensive stuff on them so they'll just bashfully say, "OK, OK" and hand over an AmEx Platinum Card. Browsing the racks for an extra 10 minutes might feel torturous at the time, but if you end up catching a deal, you'll save some extra cash for a trip to a sports bar afterword, where you can brag to the bartender about how real men lingerie shop.
Just because it's nearly Christmas doesn't mean there aren't sale items. This little number is less than $30.
Size Matters
If you don't know what size you're looking for, then you better get on figuring that out. When I asked the saleswoman what the number one mistake men make when buying their ladies a gift, she said, "If you don't know her size, only the lord can help you." And she's right. Too small will only be depressing, too big might be offensive. Rummage through her underwear drawer, and check the tags. Even if you don't understand what the sizes mean, write them down and get a nice sales lady to help you out. Just don't get caught, or you'll end up looking like a perv.
Didn't get a good look at her cup size? Try something that comes in S, M, L, or XL or has adjustable ties like this set.
For more tips, head to HowAboutWe: Everything a Man Needs to Know About Buying Lingerie
— Samantha LaBue
Check out more great stories from HowAboutWe: