Todd Akin Legitimate Rape Comments
Leaders React to Controversial "Legitimate Rape" Comments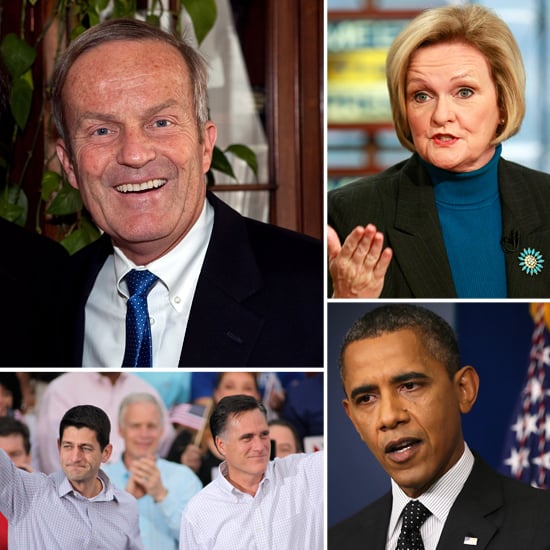 President Obama held a surprise press conference today to strongly condemn comments made by Missouri Rep. Todd Akin. The congressman, who is running for Missouri's senate seat against Democratic senator Claire McCaskill, caused outrage when he tried to justify his opposition to abortion even in the case of rape. In an interview that aired Sunday, Akin said, "First of all, from what I understand from doctors [pregnancy from rape] is really rare. If it's a legitimate rape, the female body has ways to try to shut that whole thing down."
Although strong pro-life politicians have previously made the absurd argument that women cannot get pregnant from rape, leaders from both parties are condemning Akin's statements. Below are some of the most high-profile reactions.
President Obama: During his press conference today, Obama painted himself as a leader who will stand up for women. He said, "The views expressed were offensive. Rape is rape. And the idea that we should be parsing and qualifying and slicing what types of rape we are talking about doesn't make sense to the American people and certainly doesn't make sense to me. So what I think these comments do underscore is why we shouldn't have a bunch of politicians, a majority of whom are men, making healthcare decisions on behalf of women."
President Obama also linked Akin's statements to Mitt Romney's VP pick, Paul Ryan, who cosponsored a bill with Rep. Akin that distinguished "forcible rape" from nonforcible rape.
Mitt Romney: Mitt Romney is attempting to distance himself from the statements. A spokesperson for the Romney campaign said yesterday that Romney and his running mate, Paul Ryan, "disagree" with Akin and "would not oppose abortion in instances of rape." That position could be inconsistent with Romney's previous support of the Personhood Amendment, which would ban abortion in all cases, including rape and incest, and Ryan's cosponsorship of the Sanctity of Human Life Act.
Even so, today Romney himself went further to distance himself from Akin, saying, "Congressman Akin's comments on rape are insulting, inexcusable, and, frankly, wrong. Like millions of other Americans, we found them to be offensive."
Senator Claire McCaskill: Current Missouri Senator Claire McCaskill is running against Todd Akin in a tight race. McCaskill hopes GOP insiders won't force Akin to exit the race, probably because the controversy could help her chances. She's also using Akin's statements to highlight her advantage as a female candidate. "I have a hard time imagining a woman uttering the phrase 'legitimate rape.' It is not something that would ever come out of a woman's mouth, because it is something every woman is fearful of. I think every woman knows someone who has had to deal with sexual assault."