Touching Strangers Photography Exhibit by Richard Renaldi
What Happens When We Touch Strangers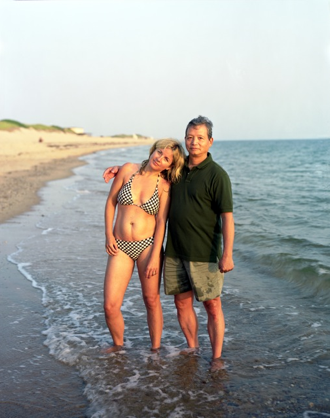 Artist Richard Renaldi knows that most of us don't want to talk to strangers, let alone touch them, and he's using that reluctance to make intriguing photography. Since 2007, Renaldi has been traveling the country and asking strangers to touch each other. According to his website, the objective of his Touching Strangers project "is to introduce an unpredictable variable in a very traditional photographic formula, to create a spontaneous and fleeting relationship between complete strangers in front of my 8x10 view camera."
An NPR piece on Renaldi's work caught my attention today, and got me wondering if he's noticed that people are more or less willing to touch strangers based on their geographical location. So I asked Renaldi, who told me: "People in the country and on the West Coast have more time and are a little more relaxed than in the cities."
The photos capture different reactions to the request. Most often the strangers hold hands or put their arms around each other's shoulders, but sometimes the interaction is more intimate, making the viewer surprised that the subjects have never met.