Tough Love With Steve Ward
10 Ways We Could Use Some Tough Love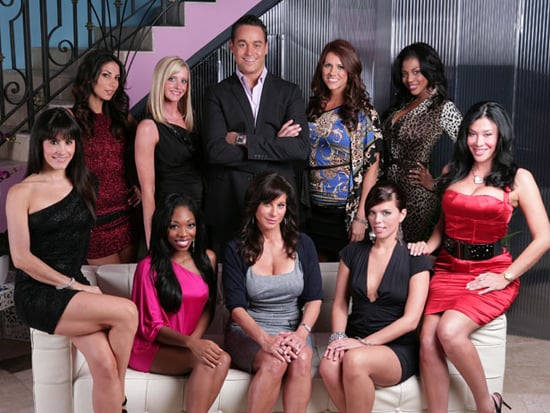 Steve Ward is a handsome, strong-willed dude from Philly, who is definitely not your average matchmaker. On his VH1 show Tough Love Miami, Steve takes a no-nonsense approach when it comes to helping women find true love. He sets up a "dating boot camp," designed to break down the women's barriers about love. Steve sets the girls up on dates to see where they need real help and find them the man they've been looking for. Steve's brand of tough love may seem a little brutal, but each week that I'm glued to the screen, I find that the girls are experiencing real progress. Here are 10 solid pieces of tough love from the man behind Tough Love Miami, Steve Ward.
"When it comes to letting a guy know you're interested, it's not just what you say, but how you say it. Or show it." Body language and nonverbal communication are just as important as what comes out of your mouth. It's important to be conscious of the vibe you're putting out from the way you carry yourself.
"There's flirting. And then there's moving way too fast." There's no reason to come out guns blazing if you have any sort of attraction for a man. Take things slow. Try your best to have an objective eye. Let things happen naturally, and don't lead someone on just for the hell of it.
"For many women, texting is a habit that can not only get out of control, it can turn a man off in no time." Steve dedicates a whole episode of Tough Love Miami to "Dating in the Digital Age." Steve hands all the girls cellphones and tells them they can communicate with their dates before they meet the following day. The experiment only proves that these women rely way too much on texting. Steve says if a man doesn't respond to a text, it's not an excuse to text him a million times before he responds. Have some self control!
"Let me make my point: men hate this sh*t, OK? When you're communicating with a man over a text message, or email, or other any type of ecommunication, use words and grammar." Steve says drop the acronyms like LOL and LMAO. Lay off the exclamation points and stop with all the emoticons. Men are just not into it.
"It's OK to have preferences, but even your preferences have to be realistic." Every single lady has got her list of deal breakers. Steve urges the women in boot camp to recognize that no one is perfect and to let go of these random preconceived notions about what her ideal match looks like. Love comes where you least expect it, but you've got to be open to the possibilities for that to happen.
Keep reading for more reasons we could benefit from Steve Ward's tough love.
"Rule #82: Sexy should be simple. The last thing a guy wants is to think that he's going to have trouble taking your top off." Steve urges us to stop taking things too far with the over-the-top clothes and way too much makeup. Sexy is confident, simple, and natural. Anything that's too involved looks like extra work for a man.
"Nowadays everyone Googles everything and everyone. So it's a good idea to make sure you're free from any online embarrassments . . . there's no such thing as a secret. Especially in the online world we live in." Take down those pictures from that sexy photo shoot or that raunchy Facebook album of insane nights of partying. All of this becomes public information. It will follow you.
"Your parents are, without a doubt, the most influential factor in your dating patterns as an adult." Whether you're ready to admit it or not, the relationship your parents had is a huge influence in the kind of partner you want to attract. So much of what we learn comes from our parents. Dating and love are no exception to the rule.
"You can't blame people by judging a book by its cover. You just need to explain the cover." While it's never good to be arrogant or braggish, it's important not to downplay your strengths either. Be confident in your accomplishments; don't be afraid to share them with someone you're interested in! Proving yourself is part of life. A pretty face will only do you so much good.
"If you can't handle this, the door is right there. I suggest you leave." Boot camp is no cakewalk! If you want the relationship you've been dreaming of, you've got to do the work, get honest, and figure out what's going on in your heart that's holding you back from the love you deserve.
Have you watched any of Steve Ward's shows? Do you agree with his Tough Love? Share your thoughts below!
Photo courtesy of VH1