Transgender Beauty Queen Jenna Talackova
Transgender Beauty Queen Jenna Talackova Has Already Won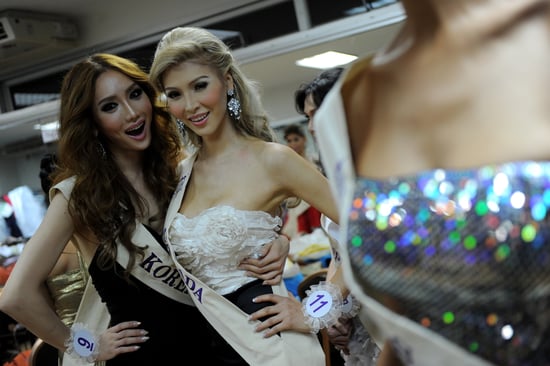 The Miss Universe Canada pageant wasn't feeling so congenial when it disqualified contestant Jenna Talackova, 23, on account of being transgender. But since the news broke last week, Jenna has received lots of positive support and her publicist released a statement today saying, "Jenna is overwhelmed, and deeply moved by the support she has received from around the globe."
When she was 19, Jenna, who was born a man and is seen on the right in the above photo, underwent gender reassignment surgery. Jenna says she knew she was meant to be a woman at the age of four, and started hormone therapy at age 14. The Miss Universe Canada pageant, which is owned by Donald Trump, said it disqualified her after she reached the finals in the Miss Vancouver competition because "she did not meet the requirements to compete despite having stated otherwise on her entry form." Prerequisites for competition include being a non-married Canadian citizen between the ages of 18 and 27. Although there are no specific rules about sex changes or cosmetic surgery, Miss Universe Canada says Jenna falsely stated that she had been born female on her application.
A Change.org petition asking the pageant to reinstate her already has over 30,000 signatures. It reads, "This is discriminatory, unjust, and quite frankly disgusting. She is a woman and deserves to be treated as any other woman would be. What kind of genitals she was or was not born with (and even what kind of genitals she has today) is completely irrelevant." Jenna says she hopes her experience will help prevent discrimination in the future, and it seems like she's well on her way to raising awareness. Would you sign the petition to get her reinstated?