True Stories Behind Letters to Juliet
The True-Life Love Stories Behind Letters to Juliet
Romantic comedies are often gimmicky and far-fetched, so it's pretty neat that Letters to Juliet, out this weekend, has some real-life love stories behind it — many unrequited, and at least one finally fulfilled.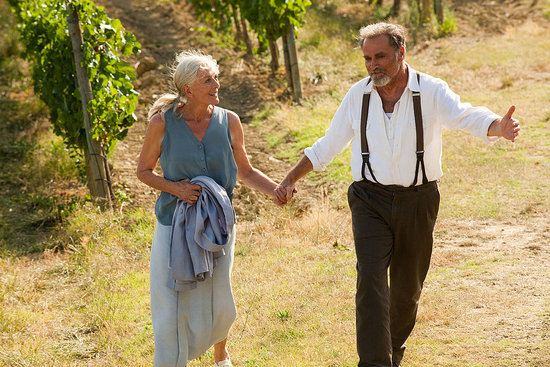 In the movie, Amanda Seyfried plays Sophie, an American in Verona who joins a group of locals in responding to the letters addressed to Shakespeare's fictional heroine. When Sophie writes back to Claire (Vanessa Redgrave), who left her long-lost love in Italy 50 years before, Claire returns to find him with Sophie's help.
Turns out, the part about the letters is totally true. In the town made famous by Shakespeare's star-crossed lovers, these letters arrive by the dozens, often addressed vaguely as "Juliet, Verona, Italy." A self-appointed club who call themselves the "secretaries of Juliet" reply to the notes, many of which are written by teenage girls in the US.
What's even more remarkable is how Redgrave's real-life romance with Franco Nero, who plays her lover in the movie, mirrors the plot of the film. For all the details and a super-cute video, keep reading.
In real life, Redgrave and Nero met in 1967, had a son, broke up and got back together several times, and finally reunited and wed in 2006. This video tells the back story; after watching it, I certainly can't blame Redgrave for wanting him back!

The "letters to Juliet" tradition goes back even further, at least until the late 19th century, when visitors to Verona were photographed leaving notes on the fictional heroine's tomb. According to Ceil Friedman, who wrote the book that inspired the movie, the tomb's late custodian, Ettore Solimani, helped build the lore when he started replying to the letters and signing them "Juliet's secretary."
The responses trailed off after he was forced to retire in the late 1950s, until a history professor took it over, abandoning the job after four years when his identity was revealed, Friedman said. Then for years, a city worker penned the letters between official business and on her own time, until the late 1980s, when city officials asked the "Club di Giulietta," to take over.
Wow, talk about a labor of love. Have you ever had a romance worth writing a letter to Juliet about?