Trusting Men to Take Birth Control
Would You Trust Men to Take Birth Control?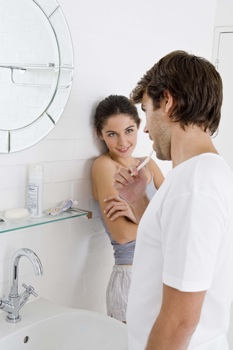 I am more than happy to cede many tasks to men. Big boxes? Pick 'em up. External hard drives? Figure 'em out. Cook dinner? Maybe I'll do the dishes. But I would never trust any man — not a FWB, boyfriend, or husband — with taking birth control.
No matter how much a man loves a woman, it's just not the same. Even if there is nothing sinister going on (i.e. guys who coerce women to stay in relationships by getting them pregnant), their level of unwanted-pregnancy fear is no match for women. Not because they don't care, but because it's not their body. Even women have trouble taking the pill at the same time every day! And, men, if a woman gets pregnant by accident, whose fault do you want it to be?
At least for now, we really don't have to answer this question. Not even the male pill is available in the US yet, but the UK is exploring other options, which are sure to jump the pond if successful. One is the ultrasound blaster, which halts sperm production for six months by sending ultrasound energy waves to testes, and the other is the male injection, a monthly jab in the butt that reduces hormone levels to temporarily block sperm.
Every year it's looking more and more likely that men will soon have equal rights when it comes to birth control; would you hand over the reigns?