Tweeting Your Partner Is a New Form of PDA
Tweeting Your Partner Is a New Form of PDA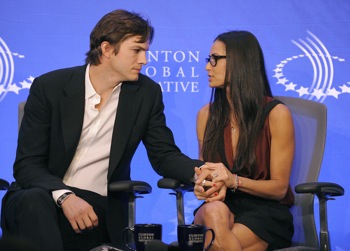 Ashton Kutcher has admitted that he tweets wife Demi Moore even when she's sitting right next to him. It's not because he's giving her the silent treatment or because he's lazy. Ashton says he's simply engaging in a modern form of PDA. He recently told a tech conference:
"A lot of times my wife and I sit across from each other and tweet, it's a little bizarre. It's the same reason why you send roses to a woman at work. Sometimes people like to be adored in public."
For fun, let's examine the pros and cons of receiving a tweet rather than roses:
Pros:
A tweet requires thought, while roses just require a credit card.
A tweet is free, while roses can be seen as throwing money at a problem.
Only your followers see a tweet, while roses attract the eyes and whispers of the office.
Cons:
Couples who broadcast love on social networks are often unfriended or hidden.
You can enjoy the sight and smell of roses much longer than 140 characters.
You can write a private note on a card that comes with the flowers.
If the goal is public adoration, maybe the best option is to send flowers and then tweet about how you sent your girlfriend flowers. But if you had to choose, which would you prefer?