Tweets About Love and Sex in October 2013
Tweets Girls Say: Can Cupcakes Get You Pregnant?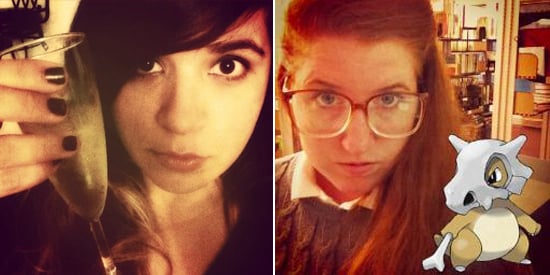 This week we're single and ready for Pringles with the funniest tweets from ladies . . . for ladies. The women who got us chuckling these past seven days taught us that chivalry is not dead, you should always have glitter on hand, and that there is a perfect answer to "So when are you going to get married and have kids?" Bonus material includes tree erotica and a chicken pun. Check 'em out now, and don't forget to follow POPSUGARLove on Twitter!
Or maybe you just want to keep your options open.
Nothing says "I have at least 2 sexual partners" quite like buying Trojan regular AND Magnums at the same time.

— Stephanie Mickus (@smickable) October 9, 2013
Now who has the last laugh?
My tombstone is going to read: "Told you I'd never find love."

— Tricia (@Im_Tricia) October 10, 2013
So that's how it works.
I'm a huge slut so on Halloween I dress up like a regular lady.

— Bez (@Bez) October 10, 2013
A for effort.
I like when a guy says "Let's get dinner sometime?" after sex. He doesn't mean it, but I feel better knowing he's seen at least one movie.

— Julieanne Smolinski (@BoobsRadley) October 6, 2013
Click here for more funny tweets!
Fact: glitter makes everything better.
I carry glitter in my purse so I can turn all of my walks of shame into Parades of Joy!!!

— Kasey Koop (@KaseyKoop) October 6, 2013
Well don't leave us hanging!
A local news tease said "Coming up: What you can eat for breakfast to help you get pregnant," and I yelled "Please don't say cupcakes!"

— Stephanie McMaster (@Smethanie) October 9, 2013
Ah, romance.
Husband Quote: "Wanna suck it real quick, it's clean?" So I guess that whole chivalry is dead thing is bullshit

— Kim (@Kim_pulsive) October 5, 2013
Take notes, ladies. The holidays are around the corner.
The next time someone asks "When are you going to get married and have kids" I'm gonna be like "Ummm May 11th 2016"

— AmberTozer (@AmberTozer) October 9, 2013
Steamy.
Me and this chicken broth are about to consommé our relationship hahaha good one shira

— Shira (@shiraselko) October 7, 2013
They are pretty cute.
i'm an animal in bed, i'm definitely a sloth, maybe even a dead sloth or one that is seriously ill and bedridden

— erin (@home_napping) April 23, 2013
[Insert joke about bush.]
The name of my tree erotica novel will be A Tree Grows in Brooklyn*. *Brooklyn is the name of my main character.

— Mandi Harris (@MandiHarris) October 8, 2013
It's gonna be a salty night.
single and ready for pringles

— 50 Shades of Awkward (@OhWowThatsAwk) October 7, 2013
I'd just turn that plane around and go home.
No cute boys on my flight. This trip is pointless.

— Heidi Selover (@happilyheidi) October 10, 2013
Glass half full.
I wouldn't mind being in couples therapy someday. Because that would mean I'm in a couple.

— Megan Ganz (@meganganz) October 10, 2013
Just don't let things get too serious.
gonna stop calling it "ALONE FOREVER" and start calling it "dating myself," i mean i'm pretty great

— Sputnik Sweetheart (@Verlieren) October 10, 2013
When a bus ride turns erotic.
Someone just accidentally grazed my ass and that should hold me over for a couple of years.

— jacqueline carbajal (@jackiecarbajal) October 10, 2013