Types of Couples
5 Types of Couples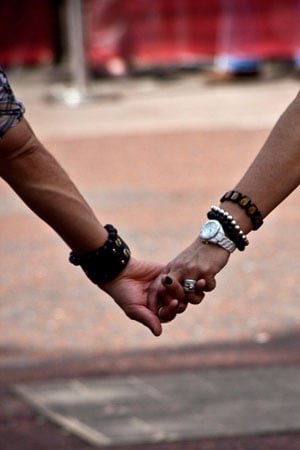 After two weeks of dinners, happy hours, and parties with all types of couples this holiday, I started to notice some patterns. Every relationship, of course, is a complex and unique little creature. But the more I thought about it, the more I realized that most couples in my life — new and established, young and old, happy and troubled — can be lumped into at least one of a few distinct categories. Here are my completely untested, nonscientific findings:
The PDA couple: Loves each other. A lot. And isn't afraid to show it, whether the venue is appropriate for smooching or not.
The "just pals" couple: Opposite of the PDA couple. So low-key about their relationship, you sometimes forget they're romantically involved. With a little luck, your parents fall into this category.
The bickerers: Seem to get into trivial arguments all the time — or at least whenever they're in public. Whether they think it's cute, or it just strains their relationship to be social, you may never know.
The lopsided couple: Separate, and not so equal, either. One half of the couple clearly wears the pants in the relationship, and friends are subjected to frequent and uncomfortable power plays.
The inspirational couple: It may be your grandparents, your aunt and uncle, or that couple you've known since high school, but everyone knows a pair who reinforces the fact that healthy, happy relationships do exist. When you spend time with this duo, take notes.
Anything I missed?
Source: Flickr user garryknight