UK Pays For Disabled Man to Lose Virginity in Amsterdam
UK Shows Disabled Man Love by Funding His First Time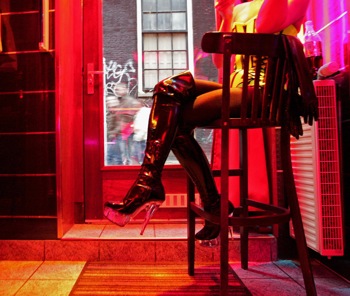 Social workers in the UK have given the green light to a disabled man's trip to Amsterdam's red-light district. The 21-year-old man is taking advantage of the "Putting People First: Transforming Adult Social Care" program, which tries to give disabled adults more control over their lives. Under the program, he'll get a budget that he can use to fund the trip to Amsterdam and a visit to a prostitute so he can lose his virginity.
His social worker says refusing to help him have sex would deny him a human right, according to the Daily Mail. What then of a woman who doesn't want to have sex with a man (disabled or not) — is she denying him a human right? Giving disabled individuals more control over their government services can help make these services more effective, but classifying sex as a right, rather than a desire, raises obvious problems.
Perhaps reframing the right as the right to consensual sex would solve this issue, but even so I think the social worker may have done the program a disservice by saying it's funding the man's right to sex, rather than simply saying he's using the money to improve the quality of his life. Even so, do you think it's OK for this man to use government money to get laid?