UK Schools Ban Too Short Uniform Skirts
Back to School Brings Ban on Short Skirts in UK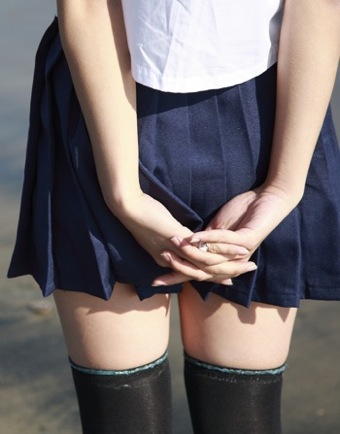 By sixth grade, I had mastered the art of rolling my uniform skirt. I never went too far — two rolls were enough to bring it above the knee and avoid being consumed by the industrial plaid material.
UK school administers think today's girls are out of control, and some schools are mandating skirts that cannot be customized. One school sends this letter to parents: "The length of your daughter's skirt is such that she spends a great deal of time pulling it down. It detracts her attention from the learning process."
Of course, parents can send their daughters out of the house with a skirt of a decent length, but that won't stop them from shortening them with the rolling technique. To avoid this, schools take more drastic measures, such as banning skirts all together and making female pupils wear pants.
Find out more after the jump!
A Scottish schoolmaster gathered up girls to tell them their too-short skirts were encouraging inappropriate thoughts among boys and he mentioned a recent anti-rape ad. Reasonably, vaguely blaming the girls for their hypothetical rapes has caused a backlash.
While my experience makes me think this problem is nothing new, a quote from a teacher has me questioning if it might be more extreme today: "It is getting worse, and the skirts are getting so high that male teachers are constantly saying they are embarrassed by the sight of female underwear."