US Citizenship and Immigration Services Accepting Green Cards For Gay Spouses
Foreign Gay Spouses May Soon Get Green Light For Green Cards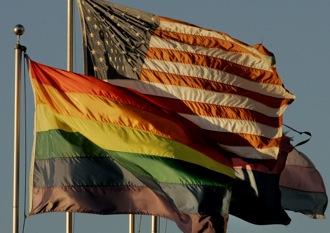 Foreigners married to American same-sex partners cannot get green cards. But as of yesterday, they will be allowed to apply for them — an important distinction that will keep some spouses together at least temporarily.
US Citizenship and Immigration Services has decided to stop denying same-sex green card applications until courts decide the uncertain future of the Defense of Marriage Act. Until now, DOMA meant that an application for permanent residency based on a same-sex marriage would be automatically denied, often leading to the deportation of the foreign spouse. Now applications will be accepted, although final decisions will be put off along with deportation.
Gay rights activists have criticized Obama for dragging his feet when it comes to change. But as of Feb. 23, his administration announced that it would no longer defend Section 3 of DOMA. Advocates say that without Section 3, there would be no ground to deny a US citizen from sponsoring a same-sex spouse.
Upon the new green card policy, the group Immigration Equality filed an application for Edwin Blesch and his South African husband Tim. Edwin, whose South African marriage is recognized in his home state New York, released this statement, which eloquently sums up the development: "Every day, we live with the very real possibility that, despite following every law and every policy of the United States, Tim will be forced to leave the country, and I will be left without my caretaker and the love of my life. Today's news gives us great relief, and great hope that we may soon be able to put that worry behind us."