Upright Citizens Brigade Show First Woman on the Moon
One-Woman Show Takes One Small Step For Womankind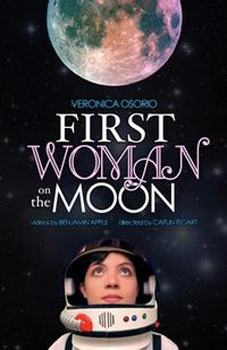 Know who the first woman on the moon was? No? Exactly. There hasn't been one. While a handful of female astronauts have made it to space, their boots weren't made for moon walking. And now that the US space program has concluded its final flight, shuttling of this mortal coil, it's unlikely an American woman will roam it anytime soon (possibly even in our lifetime).
This fact amazed writer/performer Veronica Osorio — you may remember her as roller derby diva Heavy Flow in Vag Mag — who had no idea a woman had never been to the moon until she googled "first woman on the moon" a few years ago. She mentally filed the fact away and excavated it when it came time to write and star in her first-ever, one-woman comedy show, First Woman on the Moon, at the Upright Citizens Brigade Theater in NYC.
In the sketch comedy, she plays six very different characters. One is Astronaut Veronica, the one woman qualified to go to the moon. But alas, she's not "average" enough, what with her astrophysics background. Instead, NASA holds a Willy Wonka-style contest to find five "real American women" to rocket into space. Veronica plays all five of these so-called average women: a home-bound, elderly grandmother; a prostitute turned entrepreneur; a misguided feminist author; a depressed, young mom who laments motherhood via YouTube videos; and an enthusiastic but clueless teen.
After seeing the show last month (worth it), I spoke to Veronica about what inspired it and the characters. Find out what she had to say below.
TrèsSugar: How did you choose the five characters you play?
Veronica Osorio: "I had a lot of characters in my head, some are based on real people, but none of them tied together until I decided to do the show. I pitched over 100 characters to myself and finally settled on these five women. Mostly because they seemed the most fun to write. And, they're not at all what comes to mind when you think average, American woman."
TS: Is Astronaut Veronica an exaggerated version of yourself?
VO: "Yeah, she is an alter-ego but in a better way. A better, more bad-ass version of myself. Way more whiney, but she knows what she wants. "
TS: Both this and Vag Mag have feminist angles, are you actively looking for those roles?
VO: "One of the reasons I did the show was so I could play whatever characters I wanted to. . . . As for people saying I'm feminist or gender specific; just forget about it. It can be so misguided, the extreme of it. . . . One of my characters [the author] claims to be feminist, but she is horrible. I don't even think she considers what it means."
TS: What kind of research did you do before writing the show?
VO: "I read and watched a lot about the space program and NASA, and found out about Mercury 13. It was a group of women NASA considered when they were going to do the first moon exploration in America. They took a group of 13 women and gave them the same tests they gave men. These women were aviators. They took the test; they did better on the test, but they didn't get in. It was like 'well, yeah, you're qualified, but what about your house duties?'"
TS: Did any movies or books inspire you?
VO: "Well, there's the obvious Willy Wonka reference. I love the movie, and I love that he chooses someone to be his protege. It's insane to me."
TS: Anything else you want people to know about the show?
VO: "First, I'd like people to come. I have two more coming up. I want it to inspire people to follow their dreams, whether it's painting or writing or something less meta."
If you're in New York City, you can see First Woman on the Moon at the Upright Citizens Brigade Theater on Friday, July 29, and Friday, Aug. 5 at 7:30 p.m.