Using Looks to Get a Job
Check, Please! Have Good Looks Ever Landed You a Job?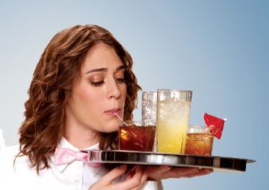 Finding a job waiting tables in a big city is a daunting gig. It's an unspoken rule that looks are essential —and not just in tough times — and some restaurants will come right out and ask for a picture. Sure, it's wrong and they know it, but what will anyone really do? Complaining won't get you hired!
Yet for all you beautiful people out there — like a friend who deemed waiter experience unnecessary because he was young and good-looking (he was) — this can be an advantage. Two women that the New York Post interviewed proved it to be true. Despite a myriad of ads requiring "New York experience only," they were hired on nothing but looks and, maybe, gall at 22. "I just walked in with no résumé," one said. "My roommate was like, 'Can we have a job? I think we want to waitress.'"
So whether intentional or not, have your looks ever gotten you in the door?