VP Debate Moderator Martha Raddatz Facts
5 Things You Didn't Know About Debate Moderator Martha Raddatz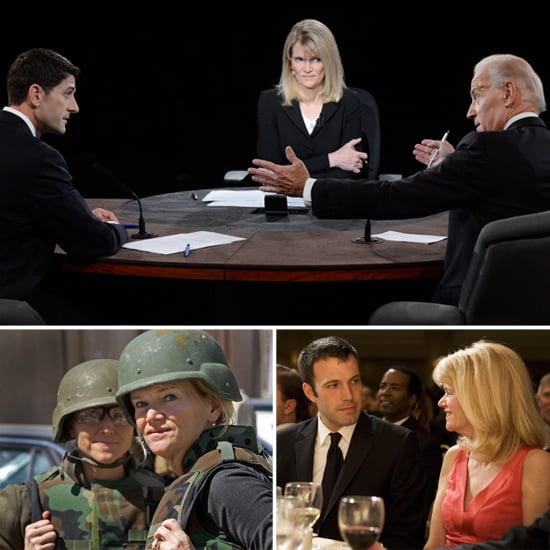 No matter who you think won the debate last night between Vice President Joe Biden and VP hopeful Paul Ryan, you have to hand it to moderator Martha Raddatz for having better control over the faceoff than Jim Lehrer did at the first presidential debate last week. Both Biden and Ryan had no choice but to zip it when Martha cut them off with "We're gonna move on" or "gentlemen." She also was tough on the guys when it came to their answers, calling them out for more specifics and asking about whether the math added up. As an expert on foreign policy, it was clear Martha knew what she was talking about, and she interjected the debate with her knowledge when appropriate. She also found a unique way to ask the men about their views on abortion, inquiring about how both Biden and Ryan's Catholic faith affects their stance on the issue. If you were as curious as us about last night's moderator, here are five things to know about her:
Rap Fan: For those of you watching the debate on C-SPAN last night, you would have caught Martha poking a joke at herself when she mentioned Chamillionaire while telling audience members to turn their phones off. This referenced her 2007 snafu — while serving as ABC News's chief White House correspondent under the Bush administration — when her cell phone went off with Chamillionaire's "Ridin" as the ring tone during a White House press briefing.
VIP

Wedding

Guest: President Barack Obama attended Martha's wedding in 1991 to her second husband, Julius Genachowski, now the head of the FCC, whom Obama attended Harvard with. Martha and Julius divorced 15 years ago.
Working Girl: Martha serves as ABC News's senior foreign affairs correspondent and has been working for ABC News since 1999. While serving as national security correspondent reporting from Iraq in 2006, Martha was responsible for the network being the first news organization in the world to break the news that terrorist Abu Musab al-Zarqawi had been located and killed.
Writing Chops: She wrote the New York Times bestseller The Long Road Home: A Story of War and Family about the war in Sadr City, Iraq.
Family Life: The 59-year-old mother of two lives in Arlington, VA, with her third husband, Tom Gjelten, an NPR news correspondent.
While my impression was that both sides could agree on what a great job she did, conservatives including Karl Rove and Sean Hannity have been complaining that she interrupted Ryan more and was harder on his responses. (Stats show her interruptions were pretty even.) So I guess there really isn't anything we can all agree on. How did you think Martha did moderating the vice presidential debate?