Veena Malik FHM Cover
Pakistani Star Suing Mag For Photoshopping Her Clothes Off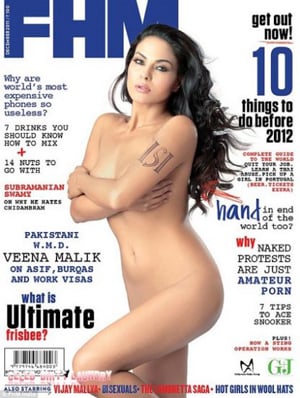 Nude covers may not shock us in the States, but when it's an actress from a conservative Islamic country taking it all off it's a different story. The cover model under fire, Pakistani star Veena Malik, says she didn't pose nude for FHM India, and she's filed a $2 million lawsuit against the magazine for making her appear that way in its December issue.
The suit states that Veena posed topless, but never fully nude, and that the magazine's doctored shoot has damaged her reputation. But I'm wondering if it would have been any less controversial had Veena been topless. After all, for the conservative Muslims who are angered over the spread (including her father, who stated he's "disowned" Veena), wouldn't any female nudity be unacceptable?
Photoshopping someone nude against their wishes would be a new low for a magazine, but FHM's editor claims there is video proof that she actually was nude during the photo shoot. Even if Veena had decided to strip completely, it would have been her prerogative. She's already proven that she's willing to push boundaries when it comes to women's rights and sexuality. She's talked openly against Pakistan's poor treatment of women, and she stood up for herself when she was called out for "shaming" her country for her love interest on Indian reality TV show Big Boss earlier last year.