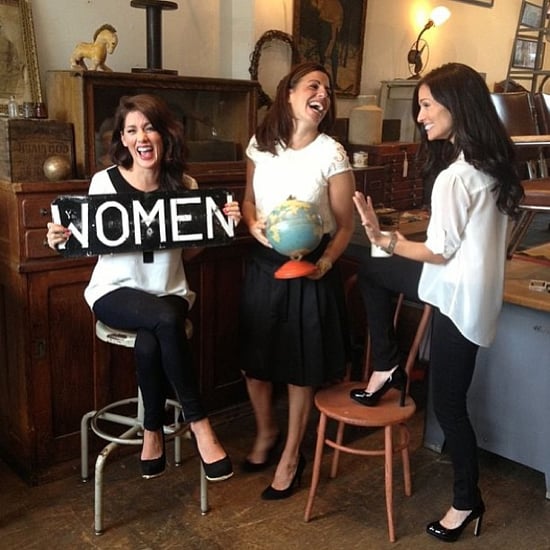 I recently chatted with former star of The Bachelorette and all-around sweetie-pie Jillian Harris about her new business Charlie Ford Vintage (named after her nephew, Charlie Ford Wesszer), which she just launched with cousin Tori Wesszer and friend Alyssa Dennis. "They say you shouldn't go in to business with friends and family, but when you have dreamed about it since you were a little girl, you have to give it a shot," Jillian told me. The company sells beautiful vintage goods, from furniture to jewelry, handpicked by the ladies. There are also a couple of wedding theme sales on the horizon. Get Jillian's tips on using vintage finds in your wedding (or party) below, and check out what she had to say about this season of The Bachelorette and her adorable boyfriend, Justin Pasutto, here!
Set the Table
"I have a total addiction to vintage plates," Jillian admits. "I just think they are so beautiful. And the plates we will be putting on our website for our wedding-theme sale are actually hand-painted, and there are another set on there that I absolutely love, they are detailed and so pretty. So if you can't afford to do your whole wedding, I would say for your head table doing vintage wedding plates and even mixing and matching. The more mix and match, the more character and personality you are going to give your wedding. I also love vintage cake stands using the cake stands for your dessert tables."
Keep reading for more vintage wedding tips!
Take the Indoors Out
"Recently when we have been planning parties and decorating for parties, we have been bringing the indoors out," she adds. "[In other words,] if you are having an outdoor wedding, bringing an old dresser out and using that as your gift display or using old chaises or armors as a display for your photos or your gifts or your sweets. Using old trunks as coffee tables and side tables."
Gift Something Old
"I think vintage jewelry is a great gift to give when you are looking for something old for the bride or you want something beautiful for the mother of the bride or your bridesmaids. Our price points are so great, so spend $35 on a vintage pair of earrings or a vintage ring or necklace as opposed to running out and buying something new to give somebody — something that has a little bit of history. Also we have these beautiful gold stopwatches that could make a great gift for the groom or groomsmen. It's something you could put in a pocket. I just think it's such a cool gift."