Wedding-Night Sex
Wedding Night Sex: Expectations vs. Reality
It's not uncommon for brides, or grooms, to have some nerves about spending their first night together. Luckily, Brides has put together a list of song titles that represent what many people think wedding-night sex is like along with scenarios that are a little more realistic.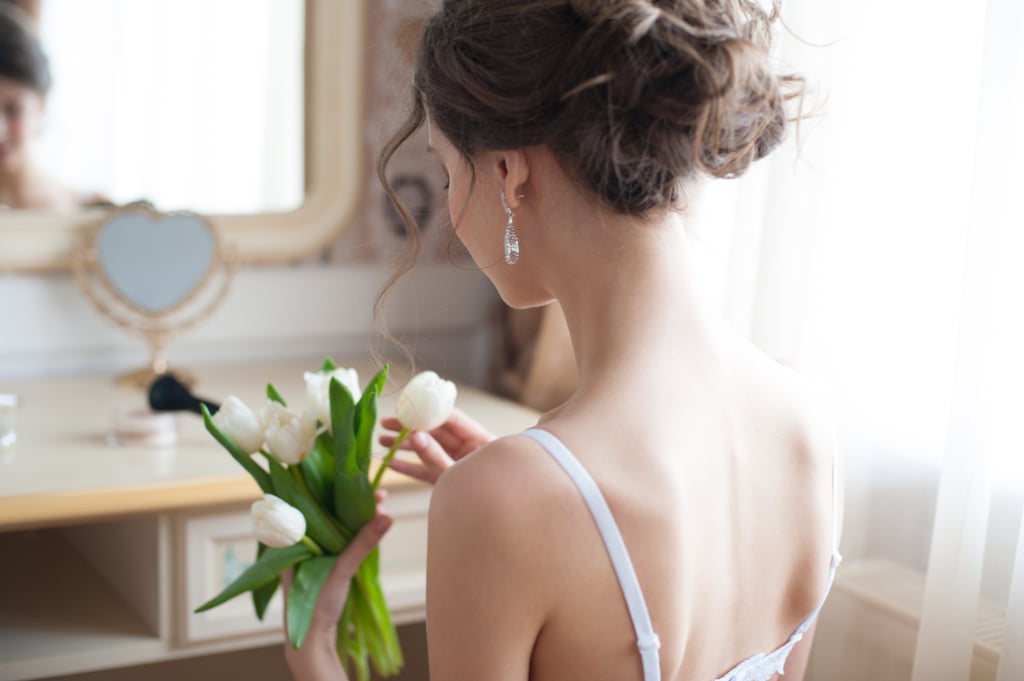 Every week, we give our readers a glimpse inside the mindset of a guy's brain on weddings with the help of the hilarious and smart editors at The Plunge. For their latest installment, they're breaking down the expectations and reality of wedding-night sex.
Back in medieval times a couple had to consummate the wedding or it wasn't considered a binding contract. Then again, there were no utensils (or Pepsi) in medieval times. Today, couples have a choice. Most people still grow up with the traditional belief that the wedding night is for steamy hot crazy monkey sex because that's awesome, but as times have changed so have the expectations and realities of wedding-night sex. So in the words of some of the sexier songs of all time, here's what you might be anticipating versus what you should prepare for.
Expectation: "Talk Dirty to Me"
Like a couple of teenagers on prom night, we're getting frisky in the old man's Ford, aka the limo (yeah, went Poison on you), before we even leave the reception hall parking lot.
Reality: We had one shot too many with our fraternity bros and halfway between the reception hall and the hotel the limo is pulled over, we're hunched behind the bushes, and you are most definitely not screaming for more.
Expectation: "I'll Make Love to You"
We go back to our honeymoon suite, turn on our favorite slow jams, light some candles, break out the massage oils, fill the bubble bath with rose petals, and slowly seduce each other all night, sharing in newlywed ecstasy until the sun comes up.
Reality: Girl, relax, let's go slow — but not too slow. By the time I pour the wine and light the fire, you're fast asleep after an exhausting day. We said throw your clothes on the floor, not pass out on it.
Expectation: "Let's Get It On"
Marvin said it best: "I've been really tryin', baby. Tryin' to hold back these feelings for so long. And if you feel like I feel baby, come on, oh come on." After all the planning, the big day has come and gone in a flash. There's only one thing left to do.
Reality: There's nothin' wrong with me lovin' you. Except there is something wrong with me — one thing in particular. I ain't gonna worry, I ain't gonna push . . . because I had too much whiskey.
Expectation: "The Thong Song"
Do we really even have to say it?
Reality: Ooh that dress so scandalous . . . and damn hard to get off! There's a zipper, and some hooks, and why the hell are there so many of these button things? All night long — screw it, let me see that thong in the morning. (Side note: What a bizarre time 1999 was to be alive. Chalk it up to Y2K hysteria. Remember when that was a thing?)
Expectation: "We Don't Have to Take Our Clothes Off"
We could dance and party all night and drink some cherry wine . . . and be too tired to na na na na na na na na. You've probably read plenty of articles about how lots of couples these days don't have wedding-night sex for any of the aforementioned reasons. Many of these couples are your friends and will remind you of this fact when you're trying to get excited about your super erotic reward for all the pains of planning.
Reality: Best. Sex. Ever. Your friends are boring as hell. Bring on the honeymoon!
Check out more great articles from Brides: