Wedding Planner Bridal Party and Guest List Advice
Wedding Planning Duo Carter & Cook Answer Your Big-Day Questions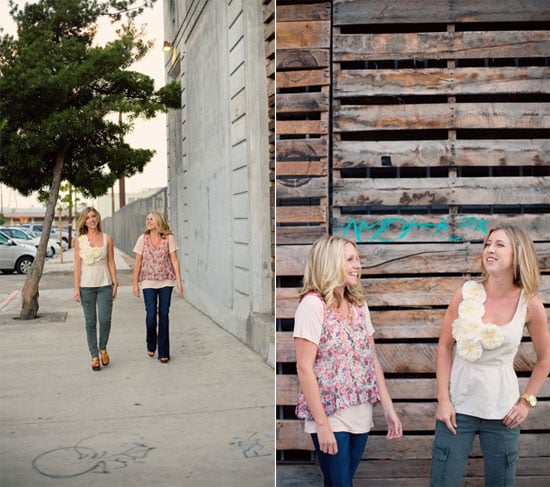 I had a chance to chat with Southern California-based wedding planning duo Ashlyn Carter and Heather Cook of Carter & Cook Event Co. (full disclosure, they are my wedding planners!), so I asked them some of your big-day dilemmas, and they were happy to share their expertise! From groom duties to wedding planner etiquette, see your questions answered below!
What sort of tasks should be delegated to the groom?
C&C: Depends on the groom. Some grooms want to be involved in every detail because maybe they're better at the planning process than the bride. And other grooms want nothing to do with the planning process. We've had grooms take on anything from planning the meal and choosing the beverages to researching and scheduling all the appointments with potential vendors. Give the groom tasks he's interested in (for example, maybe he's into music . . . let him be in charge of choosing the songs with the DJ or band).
How do you know how many bridesmaids/groomsmen to have?
C&C: The old school rule says you should have one attendant per 50 wedding guests. But I don't believe you have to follow that. At my wedding, my husband and I each had nine attendants, and we loved it! It was like we were our own party!
When dealing with a wedding planner is it OK to shop around? Should you make that transparent so they know they have competition? If you have already looked at venues on your own, should you disclose that information?
C&C: Of course it's OK to shop around. Your wedding planner is an integral part of your wedding, and you want to make sure you connect with them on a personal level and that they understand your vision for the wedding. We find that most of our prospective clients who shop around normally interview the same handful of planners. The wedding community is great, and we happen to be friends with many of the other planners in our area. So we normally figure out when a bride is shopping around. But we totally respect that!
What does it mean if the invite is addressed to just me? Can I still bring a plus-one?
C&C: Absolutely not! It never fails to surprise me how many people don't know the etiquette on this. If the envelope is only addressed to you, that does not give you liberty to bring a guest. The envelope MUST say "and guest." And if your invitation didn't say "and guest," please don't call the bride, groom, or their family to ask if you can bring one. Chances are they already thought about it and decided against it for numerous possible reasons.
Who should you NOT invite to your wedding?
C&C: Sometimes guest lists can get out of hand. The guests at your wedding should be family and important friends. If you're questioning someone, better to just leave them off the list. I don't think weddings are a place for acquaintances to become better friends.
What is the best way to get a discount/deal on a wedding venue? Is it talking to them one on one, going through a planner, paying in advance, all of the above? Any good hints are appreciated.
C&C: It's pretty rare to get a venue to cut a deal, especially if it's a popular one. Southern California venues are starting to book out one year to 16 months in advance. When demand is high you probably won't be able to talk them down. The only thing that may make them want to work with you is if your wedding is midweek (Monday-Thursday).
Is it tacky to have just a beer, wine, and champagne bar? I worry that some guests will get out of hand if we have hard alcohol so I am thinking of going without it.
C&C: If someone is going to get a little crazy, they're going to get a little crazy no matter what you're serving. I wouldn't recommend allowing shots to be served. That just speeds up the "crazy" process. But having a signature cocktail is a fun way to serve hard alcohol without offering everything. I think guests really enjoy having the signature cocktail. And it's great for photos! But I do think it's more than OK to just service beer, wine, and champagne. Many people limit the options to save a little money.
Photos by Bonnie Tsang