Wedding Planning: How to Deal With Your Mom and His
Wedding Planning: How to Deal With Your Mom and His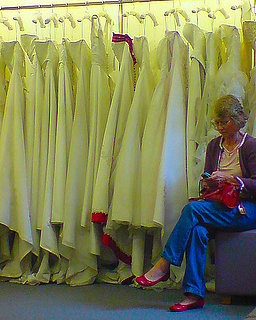 Mothers have a bad rap for acting the most wedding-crazed of all. Yet every bride-to-be I've talked to recently says her mom is surprisingly hands-off. So maybe we're all headed to an age of couple-dictated weddings, but until we're there, here are six ways to keep moms in check and your relationship at its best. After all, there is a major, major present at stake!
Get a head start: Include her early on, and she'll be more apt to trust details are under control later. Tell her your vision, and ask for input. Listen politely — she might have good advice — and try to incorporate at least one idea into your plans. If nothing entirely works, tell her the idea inspired X.
Ask questions: Ask, in the beginning, if there's a part of the wedding she really wants to be included in. She'll be less likely to butt in on other areas later.
Listen: No matter how much you disagree, listen to what she has to say. Let her finish. If you haven't been persuaded, tell her calmly and succinctly why you're going in another direction. Wait a few days if necessary.
Play to her strengths: If there's something she's good at, capitalize on it. If she puts people at ease, let her play hostess. If she's a great baker, have her make something. Maybe she has lovely handwriting — it's such a mom thing — so let her write out the seat-assignment cards.
Know what you want: Having a clear vision may just convince her your idea is perfect. If not, she'll have a hard time arguing against it . . . especially if her idea is less fleshed out.
Assign projects: This is a good place to incorporate an area she's asked to be involved in. If there's something you don't care much about — the ceremony programs or the morning-after brunch — put her in charge and give her free rein.
These all apply to his mom, too. It may be harder to assert yourself with her, so make sure you and your fiancé are on the same page. He'll know best how to handle her if things get tense!
Got more to say on moms and your wedding day? Start sharing your big day with our community. Don't forget to check the wedding content box on your post.
Source: Flickr User Deadly Knitshade