Wedding Planning: Tasks to Leave to Your Fiancé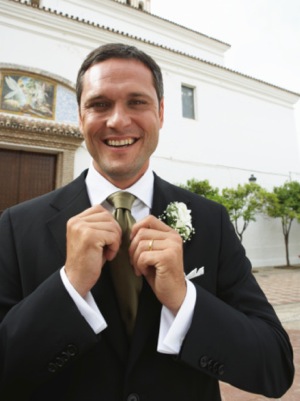 Weddings are often geared more toward the bride than the groom. She wears the dress, gets the ring, and dazzles the crowd when she walks down the aisle. As such, the bride tends to be more involved with planning than the man she's marrying. It doesn't have to be that way: Many guys either don't know how to help, or feel they'll be in the way. Here, five manly tips on getting the groom involved.
Listen up.
Before you scream at your fiancé for not caring about china patterns, make sure you haven't alienated him. Between your mom, your friends, and your own enthusiasm, your groom might think he's only needed on the wedding day. Sit down with him at the beginning of planning, and find out how involved he'd like to be. Make sure he knows you want his advice, and aren't simply pretending to take an interested in his ideas.
He's with the band.
Putting your groom in charge of finding the band and/or DJ is a smart move, as guys tend to know a lot about music and stereo equipment. Together, discuss the theme and appropriate music, and then let him do the searching. He can visit clubs, watch DVDs, and interview DJs. This is a great way to make beautiful music together.
To see the rest keep reading.
Site rules.
Even if you've picked out your reception site together, let him do the deal making and negotiating with vendors. Choosing your site involves figuring out the most affordable option—night of the week, time of day—and possibly investigating several possible locations. Once he's found the place, he can go over the "Plan B" rain setup, figure out parking, and confirm logistics such as where the dance floor goes, where outlets are, and makes sure the caterers have enough space to work.
Register joy.
Your groom's the perfect person to set up the registry, especially if you're looking at a couple of spots. While the high-end store might be up your alley, let him take care of the electronics store or the practical-items market. He can also call about donations, should you want to set up a charity for your registry. (Not sure he'll remember everything? Forward him this checklist.)
Let him eat cake.
Most guys like to eat, so have him start searching for your baker. Go over ideas together, as well as practical considerations like allergies and price range, and have him bask in the flavors of the moment at the tastings. Chances are he'll start drooling over chocolate and red velvet, and he can also order a groom's cake, now popular in any flavor and design, and often served with the main cake. Keep all of these ideas in mind for your groom, and the two of you will be off to a sweet start.