Wedding Present Etiquette
Tips and Tricks For Giving a Great Wedding Present
Before you get a heartfelt handwritten thank you note for your amazing wedding gift, you have to find something to offer the happy couple! I've come up with some tips on how to give a thoughtful and appropriate present. Check them out and feel free to add your own ideas in the comments.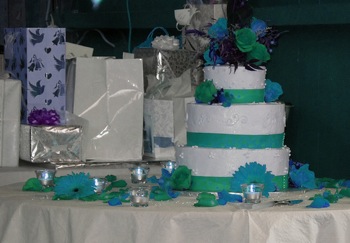 Act early. It's helpful to send the gift to the bride soon after you receive your invite. You'll have your pick of the registry and the couple won't have to deal with the present on their big day.
Of course buying something off the registry is not mandatory. Take it as a suggestion and go ahead and offer a more personal gift if you have something in mind.
Maybe they want money. In some traditions, guests typically give the newlyweds money, so ask around to the wedding party or family to see if money makes for an acceptable gift. Keeping in mind that many cohabitating couples already have set up a household, money might be more useful than a second set of silverware.
Consider offering a gift even if you can't go. It's in good taste to send something if you receive an invitation, but cannot make the wedding. Something simple, like an item off their registry, a bouquet of flowers on their one month anniversary, or a card noting you made a donation to the couple's favorite charity would work.
Incorporate the honeymoon. A friend of mine went to Sydney, Australia for her honeymoon, so our mutual friend, who had lived there before, offered the couple a gift certificate to her favorite restaurant. Using the inside knowledge made for a memorable gift they could use on their honeymoon.
Just send one. Technically you have a year, so there's really no excuse not to send something!
Source: Flickr User Right About Me