Jillian Harris, former star of The Bachelorette and finalist on The Bachelor, learned a thing or two about love (and heartbreak [1]) during her stint on the reality dating shows. So this Valentine's Day, we thought it was only fitting to ask the bubbly Canadian about the loves in her life. Jillian told us about her top 10 people, places, and things, which, of course, include a certain handsome boyfriend [2] and her closest family and friends. This list is especially meaningful for the go-getter, as she recently decided to close her Charlie Ford Vintage [3] business to spend quality time with her loved ones. So let's look through Jillian's favorite things and remember to appreciate all the loves in our lives this Feb. 14!
Update: Jillian's loved ones returned the favor on Valentine's Day by hacking her blog [4] to share love notes with her. Her granny wrote, "I love Jillian because she is my very beautiful, talented granddaughter and she's one of the sweetest girls on earth like all of my darlings!" And in her boyfriend Justin's sweet love letter [5] he wrote, "Over the last two years you've been so much more than a girlfriend to me, you've been there for me when I was down, you've been there for me to celebrate the good times, you're my lover, life partner and best friend; you show me what life is all about." Awww.
Photos courtesy of Jillian Harris [6]
1. My best friends and heterosexual soul mates, Karissa and Shannon:
So, I have been best friends with Karissa Schuler and Shannon Long for roughly 27 years. For as long as I can remember, these two are the epitome of unconditional friendship love. Almost to the point of enabling bad behaviour, because we all think each other are perfect. I have never known a time that either one of us have said the other one was wrong (even though I am sure there have been many times); we are just so accepting of each other and support one another in anything we decide!
2. The making of a family . . . His family, my family, my friends, his friends: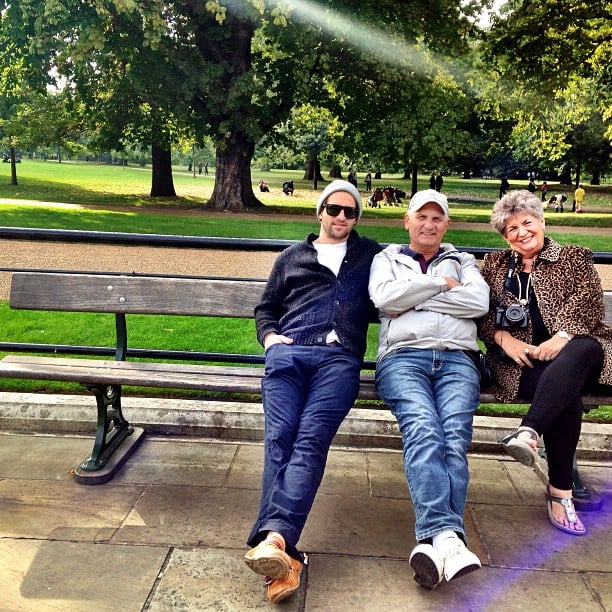 I feel so blessed that my family and Justin's family gets along. And not only that, but mix in his best friends, my cousins, and my best friends . . . it's like the making of a new family. Family is number one for me — I hate being away from them, so having everyone get along and be able to have fun together is like winning a lottery!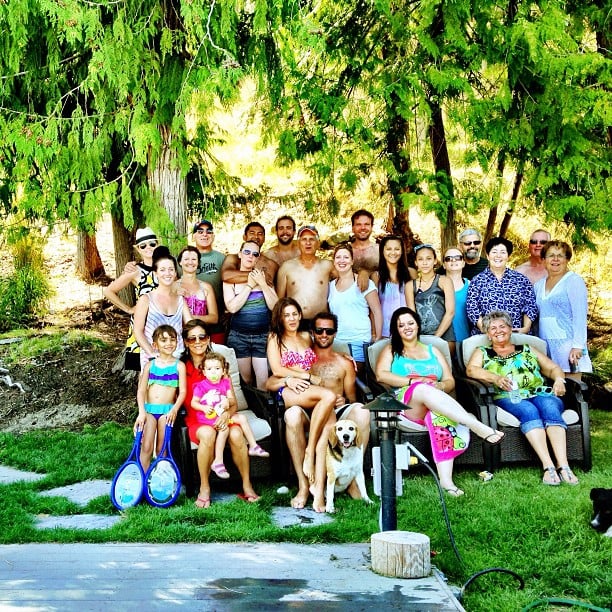 This picture is at Justin's parents' cabin. In the summertime on the weekends, often my parents will come down along with both sides of the family and friends, and we boat and hang out on the dock . . . amazing! My mom and Justin call each other best friends — they hang out together, go on road trips together and talk on the phone all the time — I mean, really, how cool is that!
3. Justin Pasutto: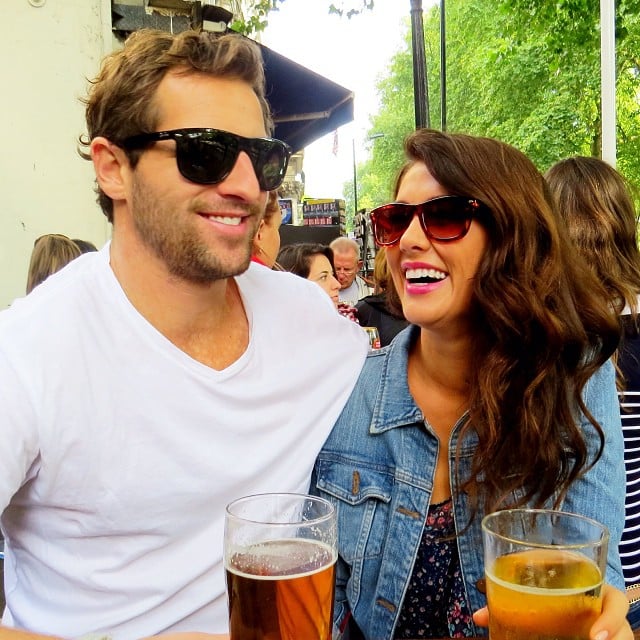 Love this guy with all my heart! Almost two years now he has taught me so much about taking time away from work for the things that really matter, about communication and love! My life is obviously richer with him in it.
4. The Girls: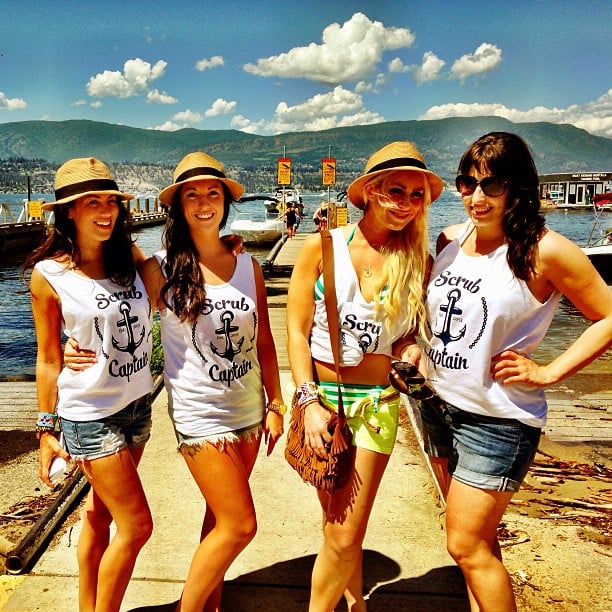 Aside from Karissa and Shannon, there's Tori, Samantha, Patti, and Angela. There's Dana and Carol and Michelle. I am so grateful for the girls in my life!
5. Milo . . . and all of God's little creatures: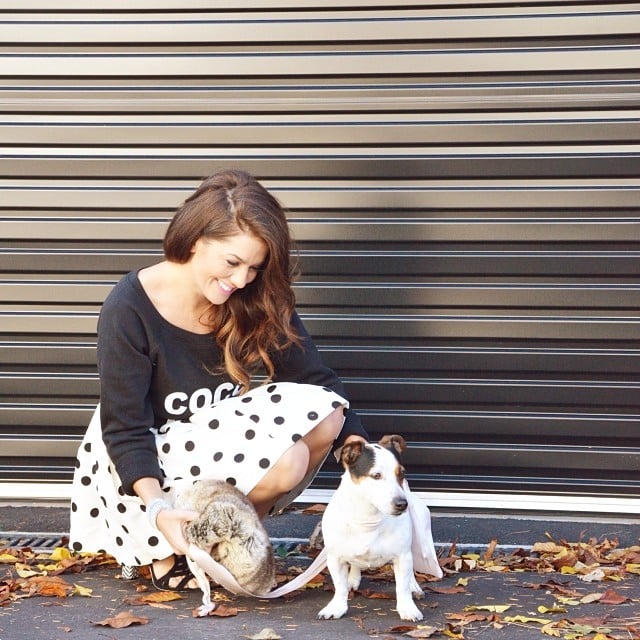 I am a serious dog-lover, but I love all animals: dogs, cats, mice, and rats. I'm still working on spiders. Milo and I are BFFs. I have never met a dog that loved to be cuddled so much in my life. Milo is Justin's brother Matt's dog, and he sleeps over once a week. It's always my favorite day of the week because I get to sleep with Milo! I also am very passionate about being grateful for the food we eat — all of god's creatures who give their life so we have food. I am very passionate about how they are treated and not wasting!
6. Spaghetti bolognese (just being in the kitchen!):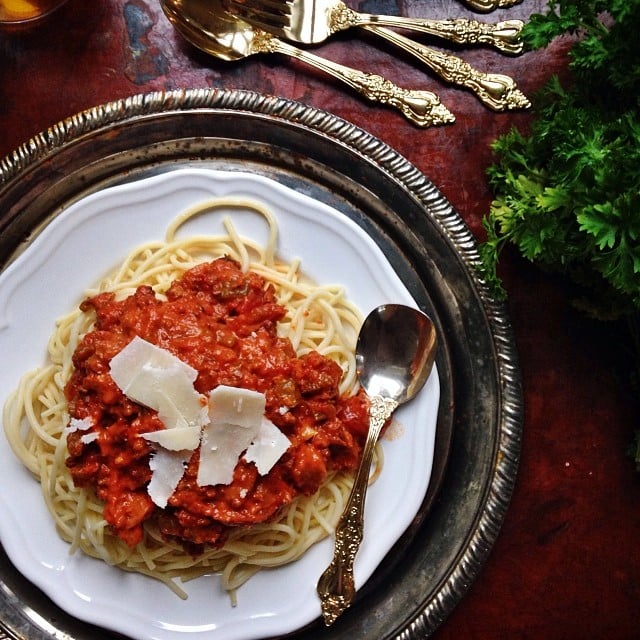 Drooolll . . . I am pretty sure I make the best bolognese, and I think about it daily. I got the recipe from an old GQ magazine (recipe is on my site [7]). I love to cook. Being in the kitchen and creating new things is like the immediate gratification of design. I don't have to wait days or months to reveal a project — one hour, and voilà!
7. Charlie: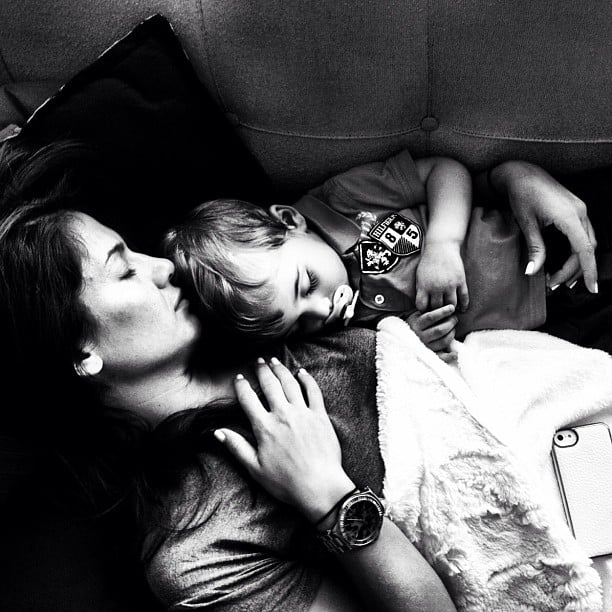 Charlie is the son of Tori, whom is like my sister, best friend, and soul mate (but we are cousins). He has my heart — nothing is more special to me than watching him with his arms out running towards me yelling "Auntie! Auntie!"
8. Giggles and being goofy: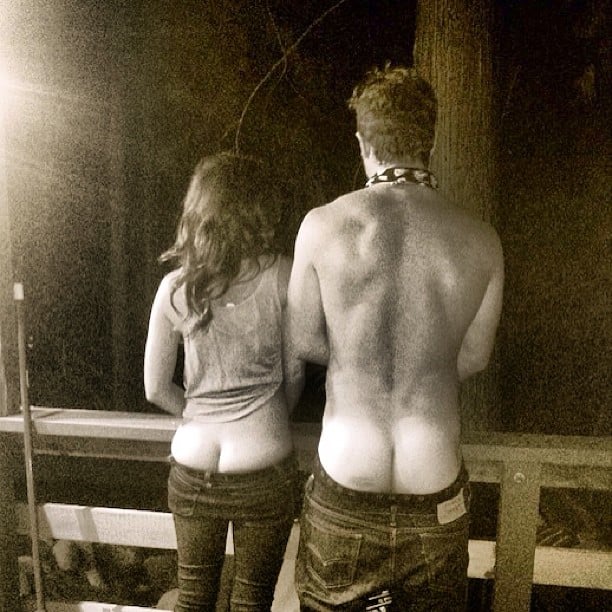 Something I am usually pretty good at — but last year, I was too serious. I worked too much, was stressed too much, and I've realized that people who are too busy aren't really that funny anymore. So I just made a decision that I would rather be funny than busy, and starting to get back to my old self!
9. My Country:
So, so grateful for my country. I am a happy taxpayer and although I am sure there are changes I would make — I am happy to live in a safe, free, and beautiful country.
10. Granny: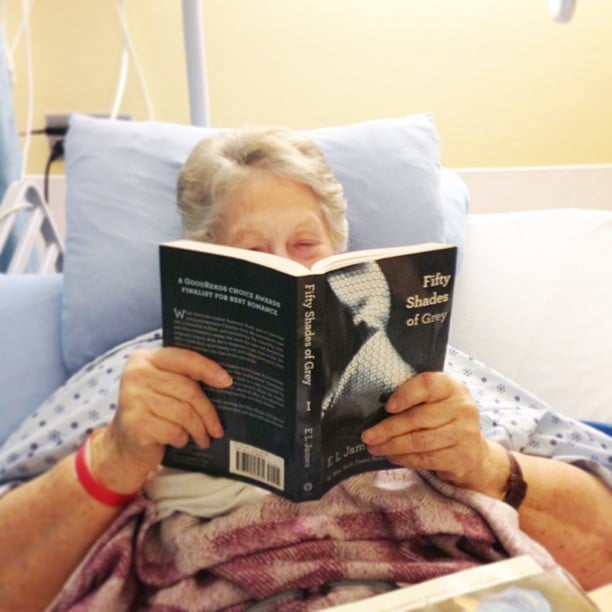 Ahh . . . Granny. I hope and pray when I grow up I will be just like her. So open-minded, accepting, funny, and wise. She obviously represents my parents as well. I have been blessed with an amazing family that has been the reason for any of my success. They always told me I could do whatever I set my mind to; they truly are my best friends.