What Is Chatroulette? 2010-02-11 12:15:34
Nightmare or Dream? Chatroulette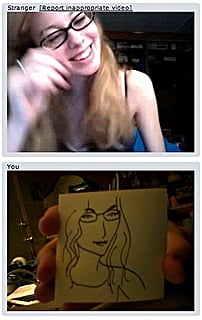 Chatroulette is like an updated version of an old-school chat room (this video sums up everything you need to know). It randomly matches you up with strangers for video, audio, and text chat. So, of course, it had to become some kind of turbo form of speed Internet dating.
I first dismissed it as a passing Internet phase, but then I came across these Craigslist's Missed Connection ads as those disconnected (it's not too reliable) try to spin the wheel again. Writer Sam Anderson for New York magazine subjected himself to Chatroulette in the name of journalism, and described the experience to be every bit as traumatic as I'd imagine.
The first 18 people who saw me disconnected immediately. They appeared, one by one, in a box at the top of my screen — a young Asian man, a high-school-age girl, a guy lying on his side in bed — and, every time, I'd feel a little flare of excitement. Every time, they'd leave without saying a word. Sometimes I could even watch them reach down, in horrifying real-time, and click "next." It was devastating. My first even semisuccessful interaction was with a guy with a blanket draped over his lap who asked if I wanted to "jack off" with him. I declined; he disconnected. Over the course of an hour, I was rejected by what felt like a cast of thousands: a teenage girl talking on her cell phone, a close-up of an eyeball. It started to feel like a social-anxiety nightmare. One guy just stared into the camera and flipped me off. Another stood in front of his computer making wave motions with his hands, refusing to respond to anything I typed. One person had the courtesy to give me, before disconnecting, a little advice: "too old." (I'm 32.)
Clearly people are enjoying themselves, though. Does it sound like a speed-dating dream or an interpersonal nightmare to you?
Source: Flickr User kisokiso