What Is the Diamond Jubilee?
What to Know and Where to Watch the Queen's Diamond Jubilee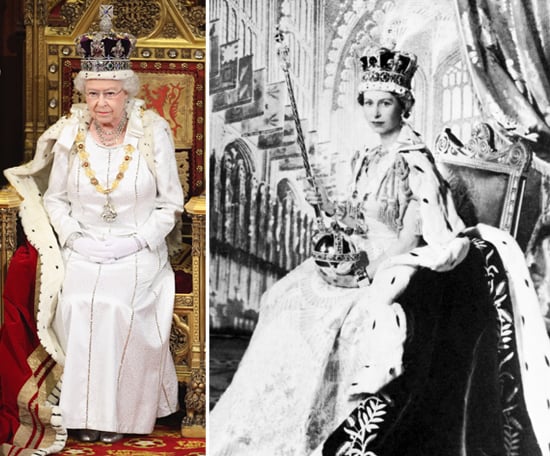 The Diamond Jubilee is another way to say 60 years since Queen Elizabeth II became queen. Technically, it kicked off on Feb. 6, 2012, 60 years since her father died in 1952 and she replaced him as monarch at the age of 25, but the main event starts Saturday. Queen Elizabeth II is only the second British monarch to reach 60 years on the throne. Back in 1897, when Queen Victoria marked the same anniversary, she was much more feeble, having to celebrate the Jubilee service from her open carriage sitting outside of St. Paul's Cathedral. If you know little about Queen Elizabeth, you'd likely recognize her in bright colored outfits and big hats still visiting gathered crowds at age 86. She's not slowing down for the upcoming Central Weekend, which includes celebrations across the UK and Commonwealth for the queen's 60-year rule, from Saturday, June 2 to Tuesday, June 5. If you want to follow along at home, here's what you should know. You might even consider throwing a Diamond Jubilee party, complete with Corgis, favors, and tea.
Who: The royal family and commoners alike.
What: Street parties, a concert at Buckingham Palace, a flotilla pageant down the Thames, and more!
Where: In London, across the UK, and throughout the Commonwealth, the group of nations formally belonging to the British Empire, some of which still have Queen Elizabeth as their head of state.
When: Monday, June 4 and Tuesday, June 5 are bank holidays, so it'll be a long four-day weekend. Here's the breakdown of the official events.
Saturday, June 2: The queen, an avid horse lover, will attend the Epson Derby, the most prestigious horse race in Britain.
Sunday, June 3: Everyday people will get together for The Big Jubilee Lunch, a meal shared among neighbors in the form of a traditional street party or small picnic. Meanwhile, the queen will participate in the Thames Diamond Jubilee Pageant, consisting of 1,000 boats from across the UK, the Commonwealth, and around the world. The queen and Prince Philip will be on the Royal Barge, the center of the flotilla.
Monday, June 4: The BBC is throwing a concert at Buckingham Palace, with tickets open to the public and kicking off at 7:30 p.m. London time. The queen and other members of the royal family will enjoy music by Elton John, Annie Lennox, Paul McCartney, and more.
Tuesday, June 5: The big party ends with a day of celebrations in Central London. There will be carriage rides, a service at St. Paul's, and an appearance at Buckingham Palace by the royal family at approximately 3:25 p.m. London time — maybe Will and Kate will sneak a kiss again.
Of course, royal watchers, anglophiles, and history lovers can check back here for photos and a breakdown of it all!