What To Do If You're Being Stalked
6 Ways to Protect Yourself Against Stalking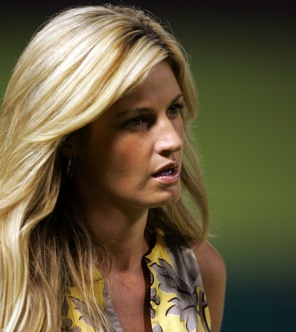 When ESPN host and victim of a stalker Erin Andrews went to DC to lobby for tougher laws against stalking, she shared what her experience taught her:

"One thing I've learned is you don't really talk about how you travel anymore . . . information is very accessible, people talked about how we're in the technology age, so there have been different measures taken."
As technology makes it easier to harass people, Congress is trying to make the legal consequences tougher. The new bill broadens what counts as stalking to include: "conduct [that] would be reasonably expected to cause the other person serious emotional distress." While it's never a victim's fault she's stalked, it's not a bad idea to consider ways to protect yourself. These tips don't take into account the specifics of every situation, but they are simple things to keep in mind.


Tell someone: The first step toward doing something is to tell your friends, family, or co-workers. They will know to use discretion when sharing details about you and can offer support. Ignore the worry you might be overreacting.
Tell the stalker to stop: If someone's making you uncomfortable, be firm and say "please stop." Use plain language and don't worry about hurting any feelings. Then cut off communication.
Write it down: A paper trail can help you bring charges. Write down every time you received a threatening phone call and keep emails and text messages.
To see the rest read more.
Change up your schedule: This will make things more difficult for a stalker and take some of the control away from him.
Think about what you post on the Internet: Like Erin said, today our personal information is so readily available on the Internet. Make sure your privacy settings are set and think twice about posting specific information. If you're by yourself, it's best not to post your exact locations on sites like Twitter or FourSquare.
Report harassment: Talk to the police and let them know that you feel directly threatened and provide records or specific examples. The sooner you speak up, the sooner you start building a case.