What Is Formspring.me?
Website du Jour: Formspring Is a Stalker's Dream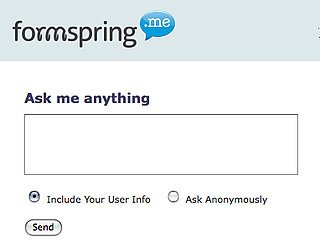 Twitter allows us to say anything, but Formspring allows us to ask, and be asked, anything. It's a forum to submit questions anonymously, like your own personal interview, bringing oversharing into 2010.
After signing up, it seemed like a big letdown. I had no friends. No followers. Generic questions in my inbox. And though I succumbed to answering a few, things didn't start to get interesting until I tracked down some of my favorite Internet people. And I realized, this is what stalkers and narcissists — all of us — have been waiting for. It's like a nonstop interview. A running tab of questions asked and questions answered. Ask people why they said X three years ago. And they answer. Well, if they want! Your chances are high though, since the whole point is to be open.
If celebrities take to Formspring, I see no end to this!