What James Franco and Allen Ginsberg Have in Common
3 Things James Franco Has in Common With Allen Ginsberg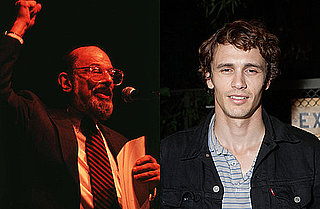 We were reminded just how perfect James Franco is as beat poet Allen Ginsberg when the trailer for the Ginsberg biopic, Howl, came out yesterday.
He's already PhD-from-Yale smart, but there's plenty more where that came from. Here are three things he has common with the icon he'll play.


Columbia connection: Both studied writing at Columbia University. Allen got his undergraduate degree there and James got an MFA.
Authors: Allen's entire career was his writing. While James has only published one book — a collection of short stories titled Palo Alto — he writes poetry, too. In 2008, he told Blackbook his poetry combines fragments of existing texts. But he didn't talk too much about it, fearing the takeaway would be "James Franco likes poetry." Sorry, James! Besides we're saying he writes poetry!
Art as a hobby: Allen took photos to relax, which were collected and published in Beat Memories: The Photographs of Allen Ginsberg, while James paints. In an early interview (back in his Freaks and Geeks days), James said he's been painting longer than he's been acting.
Now we just have to wait until the film, which has been in the works since 2008, comes out September 24.